Barack Obama's old apartment was the site of an unusual field trip this week.
Students from the Elizabeth Peabody House got a tour of 365 Broadway in Somerville, Massachusetts. That's where Barack Obama lived from 1988-1990 while he attended Harvard Law School in Cambridge, one town over.
Obama paid $950 rent for the small one-bedroom that is currently rented by a couple now paying $1,200. Stone steps lined with ivy and black railings led to the basement apartment on the front left side of the building, originally constructed in 1882. A quick walk through showed a dark semi-circular living room with exposed brick walls and a small inset kitchen, a bathroom and a bedroom, with the back door leading to the inner staircase of the building.

The President reportedly went by the nickname 'Barry' and studied a lot. He was "pretty casual" and didn't wear suits and ties back then.
Looks like it might be the same old couch, eh?
Here's what the building looks like from the outside, facing east, with Broadway on the right. Obama's was the basement apartment on the southeast corner.
We happen to live about six blocks from this apartment, and Obama's choice of location has always seemed a bit curious to me. It's more than two miles from Harvard Square, and it feels even farther than that. Obama's landlord at the time, Jay Holmes, says it was all about the Benjamins:
Holmes said Obama came to live there because "you got more apartment for less money. In Cambridge, this would cost double."

He finds it upsetting when people point fingers at Obama and criticize his economic policy when the president chose to live in Somerville because it was cheaper and said that he was careful with his money. "People make him out to be a big spending President but he was a conservative guy."
Conspiracy theorists should note that 365 Broadway is right on Winter Hill, home to the notorious Winter Hill Gang of organized crime (and Whitey Bulger) fame. A friend of mine, a single woman, moved into a house on Winter Hill in 2001 and was told by an older neighbor, "You'll never be any safer than you are living right here. Just don't ask any questions."
Obama is probably tangled up with Whitey Bulger, is what I'm saying. No wonder they delayed Whitey's trial until after the elections.
But seriously: It's a wonderful treat for schoolkids to be able to visit the apartment of a former president. There's no plaque and no statue, so it's a piece of U.S. history that most people drive by unawares.
[Update: November 2020]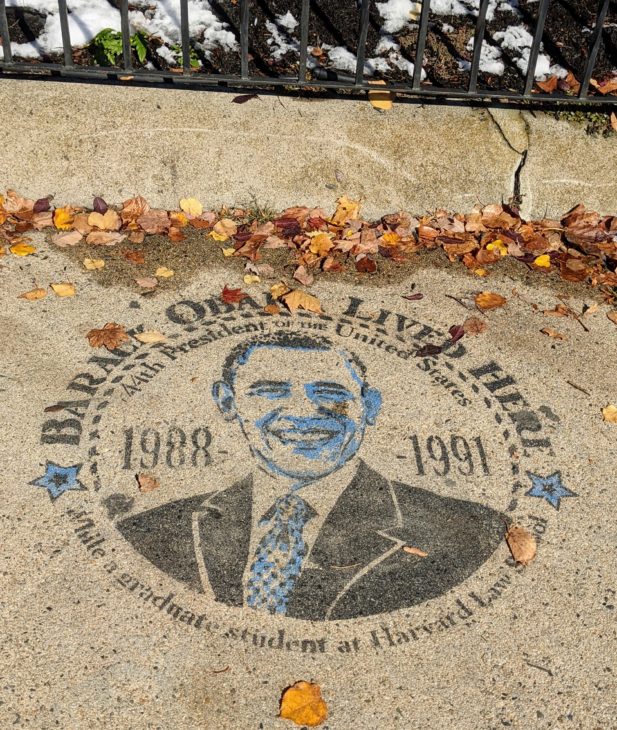 A very nice bit of street art now commemorates Barack Obama's stay at 365 Broadway. The mini-memorial arrived in 2018, courtesy of local artist Liz LaManche. Good old Somerville!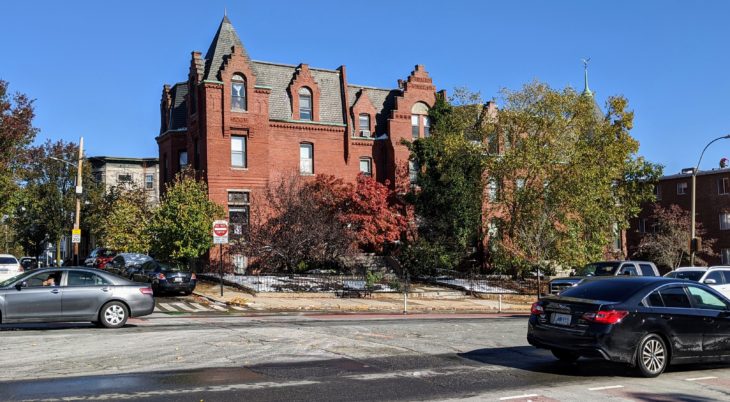 Here's what the building looks like today, after the year's first dusting of snow. Obama's apartment is at lower left, just behind and below the "do not enter" traffic sign.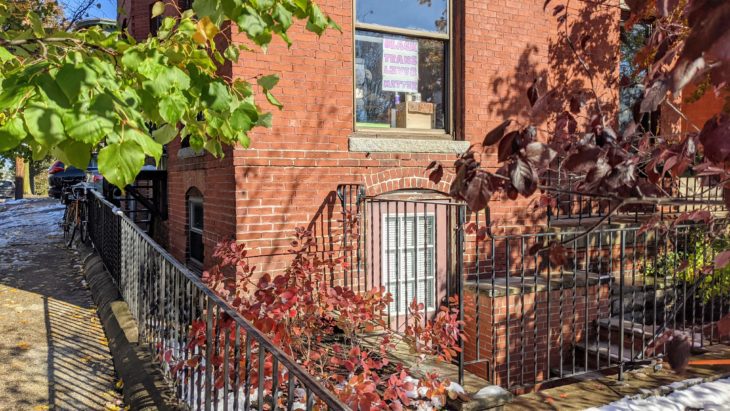 And here's a close-up of the front door to the old Obama apartment. Down the stairs and into history.
The original Wicked Local article we linked and quoted above is no longer available, alas. But other local news outlets have covered the story since, including Boston.com and the Somerville Times. Local station WCVB also filed this video report, with notes on Liz LaManche:
Good stuff. Now see our full biography of Barack Obama »