Jack Ruby was sentenced to death on 14 March 1964 for killing Lee Harvey Oswald, the man who had killed President John F. Kennedy. That was Ruby's first trial.
As it turns out, it was Jack Ruby's only trial. He was found guilty of murdering Lee Harvey Oswald because he did murder Lee Harvey Oswald — on live television, while tens of millions of people watched.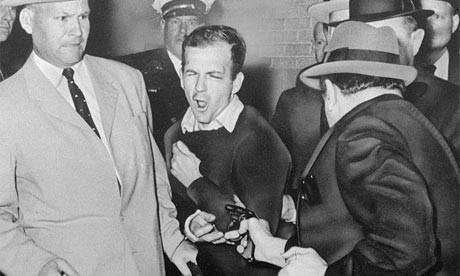 Jack Ruby killed Oswald in front of the police, God and everybody, as Oswald was being transferred from the jail. Ruby had been a few hundred feet up the street, at a Western Union office. He said he saw the commotion at the police station and went to check it out. He walked down the entrance ramp and there was Oswald. Ruby took out his .38 pistol and shot Oswald.
This was a Sunday morning, around 11:00. President Kennedy had been killed just two days before, on Friday, 22 November 1963.
Ruby's defense attorneys tried to paint Ruby as a man with seizures who didn't know what he was doing at the time. Ruby himself wasn't so sure about that line of defense, although he did claim he couldn't remember the details of the event. As for motive, Ruby said he killed Oswald to spare First Lady Jackie Kennedy the pain of Oswald's murder trial.
During his trial, Ruby was depicted as a crazy guy, a nightclub (stripjoint) owner with a volatile temper.
Well after his conviction and death sentence — four months — Ruby was finally before the Warren Commission to tell his story. Ruby was desperate to take a polygraph test, and they let him, along with steady reminders that a lie detector didn't necessarily detect lies.
Amid rumors that Ruby was part of some conspiracy to assassinate the president, that he'd killed Oswald to silence him, the Warren Commission determined that Ruby acted alone, just as Oswald had acted alone.
Jack Ruby spent the next couple of years in jail, waiting for the court to decide on his appeal request. On 5 December 1966 it was announced that Ruby's second trial would take place in Wichita Falls, Texas. Four days later Ruby was admitted to the hospital for pneumonia, and they found cancer. He died less than a month later, on 3 January 1967.
So he died before we got all the answers, adding another important ingredient to the conspiracy stew that had already been cooking. It still cooks today, though maybe it's down to a simmer.
Was Jack Ruby as much of a fan of Kennedy as all that? It's been pointed out that Ruby didn't even go to the parade for the president. He didn't vote for him. Ruby is said to have liked the president's defense of minorities — Ruby was a Jew from the North, running a strip club in Dallas, Texas, so you can see he'd be sensitive to that issue — but who knows?
Was Jack Ruby connected to the underworld? That's what you hear, but there doesn't seem to be any clear connection, even after all these years.
Was Jack Ruby part of some conspiracy to rid the world of John F. Kennedy? The opinion of those who knew him seems to be an easy "no way." Because Ruby was known to be chatty son-of-a-gun, that's the argument. Oh, but isn't that double clever, setting people up to "misunderestimate" him?
So many unanswered questions. Fascinating stuff, though. To read more about Jack Ruby and the holy trinity of conspiracy deaths (Kennedy-Oswald-Ruby), try the following:
The Who2 biography of Jack Ruby.
The Who2 biography of Lee Harvey Oswald.
The Who2 biography of John F. Kennedy.
This document archive or related materials, starting with Jack Ruby.
For a quick read, this "In Defense of Jack Ruby" essay.