On this day in 1831 James Garfield was born in Ohio. He was the 20th president of the United States — but not for long. Four months into his term, on 2 July 1881, he was shot twice by Charles Guiteau.
Garfield lingered for a couple of months, during which time the doctors mucked about with his insides, looking for a bullet near his spine. He was moved to Elberon, New Jersey in early September, and that's where he died on 19 September 1881.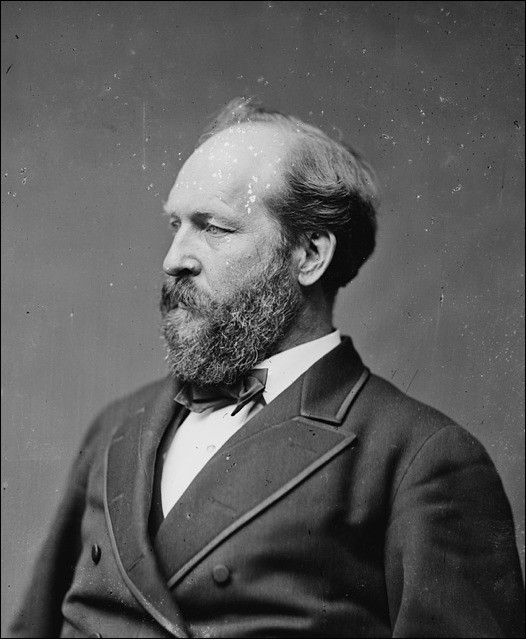 Garfield's was a success story. Raised on a small farm by his widowed mother, he made his way through Williams College in Massachusetts (with honors), and he worked as a carpenter, teacher and lawyer before going into politics. He was also a decorated Civil War veteran who reached the rank of major general, before resigning his commission to take a seat in the U.S. House of Representatives.
Known as a terrific speaker, a tale sprang up after the assassination of President Abraham Lincoln in which Garfield heroically calms a New York mob with a short speech. The mob was intent on destroying the offices of the publication the New York World, who had been critics of the late president. Garfield supposedly gave the calming speech from the balcony of the New York Stock Exchange. But it's pretty clear nowadays that story isn't true. Garfield, for some weird reason, never went out of his way to let people know that.
James Garfield served in the House of Representatives from 1863 until he was elected to the U.S. Senate in 1880. But he never took his seat in the Senate because he was nominated for the presidency on the Republican ticket and won the White House.
Turned out to be kind of a good-news/bad-news kind of thing.
(Photo from the Library of Congress)