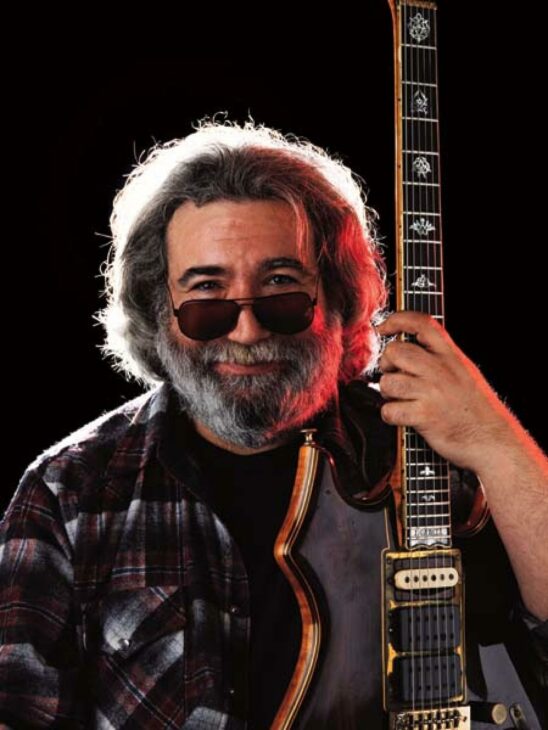 Jerry Garcia, leader of The Grateful Dead, died 15 years ago today — on August 9, 1995 — while trying to detox at a Marin County rehab clinic.
"Garcia's body was found at 4:23 a.m in his room at Serenity Knolls, a treatment facility in Forest Knolls," the Associated Press reported at the time.  Forest Knolls is about 20 miles north of San Francisco.
The San Francisco Examiner called Jerry Garcia "a bearish man whose health problems frequently interrupted the rock group's concert tours" and noted that he "almost died in 1986 from a diabetic coma."  And, they added, "his appearance was that of a man far older than his 53 years and his habits of heavy smoking, junk food and, it was said, alcohol and drug abuse had continued."
It was said, yes.  The NY Times obituary for Garcia noted more frankly that "In the 1960's, he was known as Captain Trips, referring to his frequent use of LSD, and he struggled through the years with heroin addiction."
It's too bad: Jerry would be turning only 68 today. That's the same age as Paul McCartney and Aretha Franklin and Carole King, and they still seem to get around.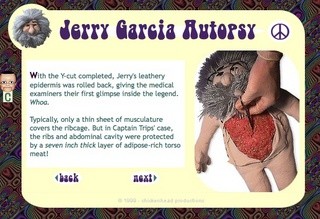 This solemn anniversary of Garcia's death does give us a chance to point out one of the most wonderfully not-solemn fan tributes in rock history: this lively reenactment of Jerry Garcia's autopsy, using a Jerry Garcia doll, sausage, and selected tidbits from the medical examiner's report:
"Whoa. Typically, only a thin sheet of musculature covers the ribcage. But in Captain Trips' case, the ribs and abdominal cavity were protected by a seven inch thick layer of adipose-rich torso meat!"
Thanks and a "Keep on truckin'!" shout-out to Archive.org for keeping this wonderful autopsy report alive.
Now see our full profile of Jerry Garcia »