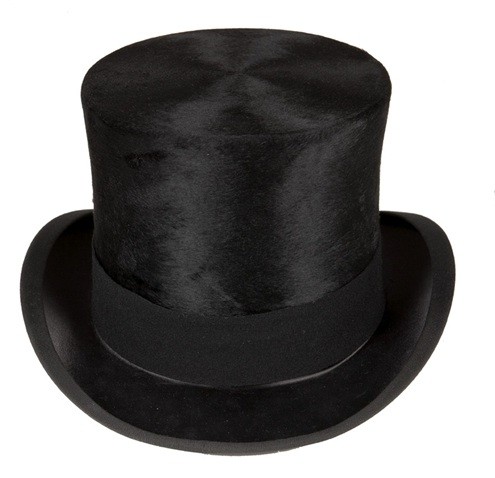 This is the beaver-and-silk hat worn by John F. Kennedy at his inauguration as U.S. president on this day 50 years ago.
The John F. Kennedy Library describes the top hat this way:
Date Made: ca. 1960
Medium: Beaver fur, felt, silk
Dimensions: Size 7 1/2″

Beaver fur top hat with black felt band and grosgrain silk rim. Interior of hat reads, "Dobbs 5th Avenue NY / Lewis & Thos Saltz Washington"
Today's presidents don't go much for fancy hats — by 2032 we'll probably see someone take the oath in an old ZZ Top baseball cap — but if they did go for fancy hats today, imagine the uproar over the wearing of an animal pelt.
The most impressive thing about this top hat is that the wealthy man wearing it could say these words right after taking it off:
To those people in the huts and villages of half the globe struggling to break the bonds of mass misery, we pledge our best efforts to help them help themselves, for whatever period is required–not because the communists may be doing it, not because we seek their votes, but because it is right. If a free society cannot help the many who are poor, it cannot save the few who are rich.
Thrilling, really, to hear someone say that out loud.
Now see a photo of John F. Kennedy in short pants and a sailor blouse >>
(Photo: Abbie Rowe, courtesy of the John F. Kennedy Library and Museum)