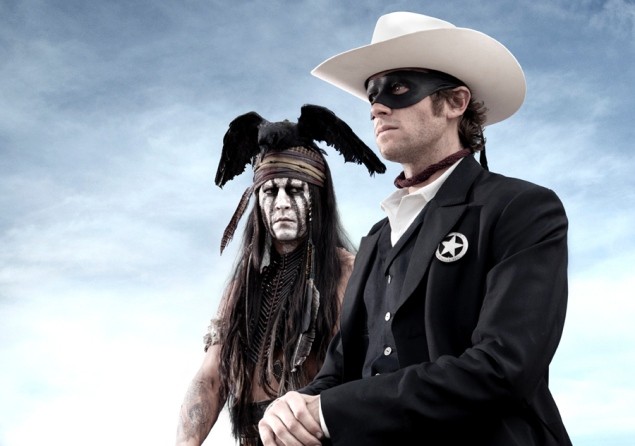 Well, we can't wait.
Johnny Depp, in costume at left as Tonto, will co-star with Arnie Hammer in the Disney film The Lone Ranger, which just started filming. (Superproducer Jerry Bruckheimer just tweeted this photo sneak preview.)
What's with the headdress? Tonto is "a spirit warrior on a personal quest," says Disney. (Plus, Johnny Depp loves wearing white face paint.)
In any case, don't get too excited: the film isn't due for release until 2013.
Also, temper your excitement with this quote from director Gore Verbinski:
"The only version of 'The Lone Ranger' I'm interested in doing is 'Don Quixote' told from Sancho Panza's point of view," Verbinski said. "And hence I was honest early on with Johnny that Tonto is the part. We're not going to do it [straight]. Everyone knows that story. I don't want to tell that story."
Uh-oh. Maybe we
can
wait after all. Arnie Hammer
played
the stiff-and-humorless Winklevoss twins in
The Social Network
, if that's any indication of where Verbinski might be headed.
"I remember watching it as a kid, with Jay Silverheels and Clayton Moore, and going: 'Why is the [bad word] Lone Ranger telling Tonto what to do?' I liked Tonto, even at that tender age, and knew Tonto was getting the unpleasant end of the stick here. That's stuck with me. And when the idea came up [for the movie], I started thinking about Tonto and what could be done in my own small way try to — 'eliminate' isn't possible — but reinvent the relationship, to attempt to take some of the ugliness thrown on the Native Americans, not only in The Lone Ranger, but the way Indians were treated throughout history of cinema, and turn it on its head."
And if you're asking "Why didn't they just hire a real Native American, then?", Depp's got it covered:
"I guess I have some Native American somewhere down the line… My great grandmother was quite a bit of Native American, she grew up Cherokee or maybe Creek Indian. Makes sense in terms of coming from Kentucky, which is rife with Cherokee and Creek."
That's a little vague, Johnny. On the other hand, nobody wants to go back to the original TV Lone Ranger and Tonto very badly.
I didn't know until just now that Tonto named him the Lone Ranger.
Times change, fortunately. Take cover, Tonto!