"Charles Napier, Actor Who Played Tough Guys, Dies at 75." That's the headline from the NY Times today.
Phagh! Napier's greatest role was no tough guy. It was Adam, the groovy guitar-playing space hippie in Back to Eden. That was the 1969 Star Trek episode where Captain Kirk and the Enterprise pick up a bunch of idealistic and patchouli-scented (but dangerous) kids who want to get to the planet Eden.
The scene where Napier wins over the the crew with his free-form 23rd-century guitar jam ought to be pure kitsch, but somehow he saves it with his goofy charm.
It's a scene that makes you appreciate an actor's life: "We're putting you in a very silly costume, giving you an obviously phony 'guitar' with no strings, and rubbing blue paint on your forehead. Now go make it great!" And he does.
Napier gets jamming at the 5:30 mark.
(The Spock-hippie harp jam that follows this scene is also pure gold, but it doesn't show up here or elsewhere online — music rights issue, no doubt.)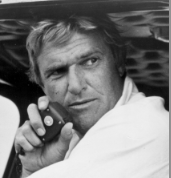 Obituaries say Charles Napier was chums with Jack Nicholson and Dennis Hopper in the 1960s. The IMDb lists over 180 projects in his 43-year career — everything from Hogan's Heroes and The Rockford Files to an episode of Archer just this year. He was an Army commander in Austin Powers and a trucker in Jonathan Demme's 1977 CB film Handle With Care.
Napier was a Demme favorite, in fact: the director gave him roles in a dozen films, including Silence of the Lambs and Philadelphia.
That's a sturdy career for anyone. Good luck on your way to Eden, Mr. Napier!