Randy Quaid is at it yet again. He and his wife Evi have been charged with burglary after they were caught squatting in the guest house of their former home near Santa Barbara.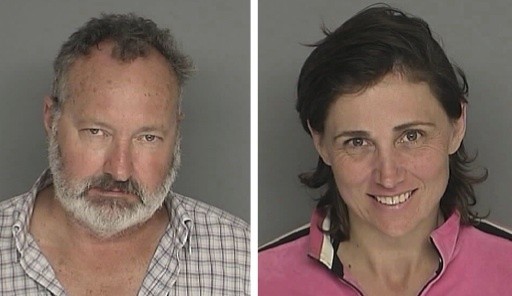 The Quaids were arrested Saturday and charged with "felony residential burglary and entering a noncommercial building without consent, a misdemeanor," according to the Associated Press story. "Randy Quaid was handcuffed without incident, but deputies where forced to restrain Evi Quaid who physically resisted arrest," according to the rather thorough report from the Santa Barbara Sheriff's office.
Seems a rep for the current homeowners called the Santa Barbara Sheriff's Department yesterday to say that an alarm had gone off and someone seemed to be living in the guest house. When the sheriffs showed up, they must have rolled their eyes to find that the squatters were the Quaids, who claimed that they still owned the place and had for years. The rep then showed the cops documents showing that the current owners had bought the place in 2007.
The Quaids had somehow done $5000 in damage during their (short?) stay in the guesthouse. They were tossed into the Santa Barbara County Jail last night, with bail set at $50,000 each.
Brother. It's only been four months since they settled their last run-in with the law.
One tidbit to emerge from the sheriff's report: His full name is Randall Rudy Quaid (DOB 10/1/50) and hers is Evegenia Helena Quaid (8/2/63).
Randy Quaid turns 60 in two weeks, and judging from the Santa Barbara mug shots above, he looks like he may be tiring of the misdemeanor life. Evi still seems to be enjoying the spotlight, though.