Twenty years ago, on 29 April 1992, Los Angeles erupted in riots after the acquittal of the cops who beat up Rodney King. Read what King (and others) have to say about it now.
Rodney King was a parole violator who led the Los Angeles police on a high-speed chase on 3 March 1991. They finally caught up to him, but King wasn't interested in being arrested. George Holliday, a plumber who immigrated to the U.S. from Argentina, heard the commotion outside his apartment and videotaped several police officers standing around while four or five other police officers beat on King with batons.
Without that videotape, the entire incident probably would have gone unnoticed. When Holliday tried to call the police to find out what exactly happened with Rodney King, he got nowhere. He ended up showing it to a local TV station, KTLA, who bought it for $500.
A year later, four officers who'd been charged with assault and excessive use of force against King were acquitted by a jury of 12. King is black. The officers were not. The jury was not. The acquittal was announced on live television.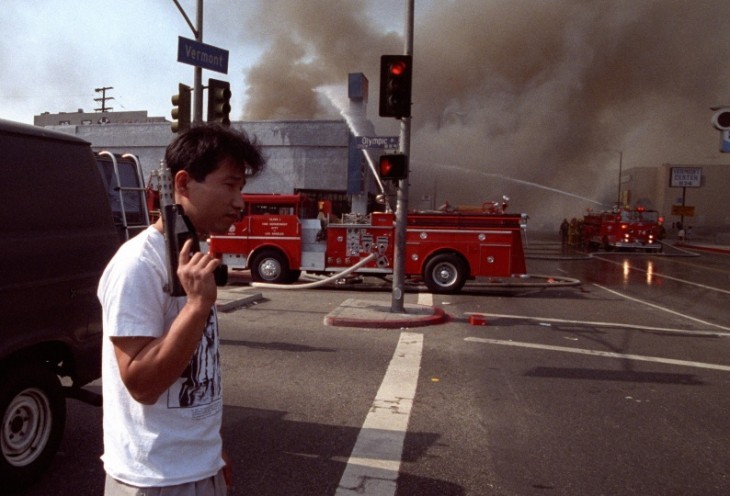 The riots lasted six days. Hundreds of buildings were destroyed by fire and more than 50 people were killed. It was ugly.
Now Rodney King is making the rounds, talking about the 20th anniversary of the L.A. riots and his place in history. Add the recent death of Trayvon Martin, and we find ourselves talking past each other about racism and violence once again. Happy anniversary.
The Los Angeles Times has a short Q&A with Rodney King right here. Parse away!
Here's a copy of the George Holliday video that we all saw parts of over and over:
To read a little more back story on the video, go here.
Poynter's has a good piece from last year on "How Citizen Journalism Has Changed Since George Holliday's Rodney King Video."
PBS has a handful of interviews on "The Legacy of Rodney King."
And the San Gabriel Valley Tribune has a gallery of over 100 photos from the 1992 Los Angeles riots (samples seen on this page). Go here.
Finally, NBC Los Angeles has a handy feature called "The Los Angeles 1992 Riots By the Numbers."