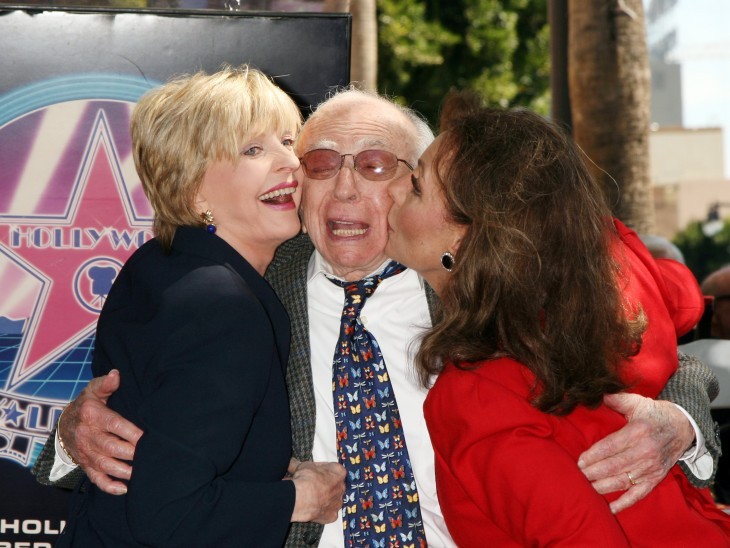 Sherwood Schwartz, creator of Gilligan and the Brady Bunch, has died. He was 94 years old — over 823,000 hours, if you're running the numbers at home.
He was declared dead of natural causes at 4 am this morning at — you guessed it — Cedars-Sinai Hospital in Beverly Hills.
Sherwood Schwartz created (and wrote the famous "three hour tour" theme lyrics for) Gilligan's Island, the show that really put him on the map in 1964. He had previously won an Emmy writing for The Red Skelton Show and had even written jokes for Bob Hope in the distant past.
The plot of Gilligan's Island is now well-known: seven nutty people are stranded together on an "uncharted desert isle" and must learn to live together as they try to escape.
That's the original opening — the one where the Professor and Mary Ann were relegated to "and the rest" status.
The show ran from 1964-67, and if it wasn't a hit with critics ("It is difficult for me to believe that 'Gilligan's Island' is written, directed, and filmed by adults" wrote Terrence O'Flaherty), it was a hit with viewers.
Sherwood Schwartz struck gold again with The Brady Bunch, which ran from 1969-74. Not quite a superhit in its day — it never ranked higher than 30th in the Nielsen ratings — The Brady Bunch became a cult hit and remains so popular that it still has active fan sites.
Schwartz never made lightning strike a third time, but his two hits stayed in reruns for decades and made him a wealthy man. (His misses included one of the first shows I remember ever seeing, It's About Time, in which astronauts travel back in time and are forced to live with cavemen played by Joe E. Brown and Imogene Coca.)
I will admit frankly that I was never fond of Gilligan's Island OR The Brady Bunch. But to each his own. You've got to respect the man's success. Sherwood Schwartz received his star on the Hollywood Walk of Fame in 2008 — that's him, above, getting kissed by actresses Florence Henderson and Dawn Wells.
Good luck to Mr. Schwartz on whatever uncharted isle he's traveling to now. And good luck getting off of it!
Read our biography of Sherwood Schwartz >>