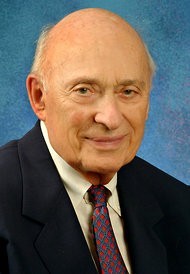 Running guru Jim Fixx died at age 52, and juice diet guru Paavo Airola died at 64. Longevity guru Nathan Pritikin didn't make 70.
But finally, an expert on healthy living has stepped up to the plate and lived into his 90s. Congratulations to Dr. Lester Breslow, who has just died at age 97.
Dr. Breslow was the dean of UCLA's Fielding School of Public Health, among many other health-related jobs. He's best known for his seven healthy habits that he believed (and then proved) lead to a longer life:
don't smoke
drink in moderation
sleep seven to eight hours a night
exercise at least moderately
eat regular meals
maintain a moderate weight
eat breakfast
Dr. Breslow was too modest to add the eighth item: "Don't tempt the gods by publishing best-selling books about how to live a long time."
Notes the obituary:
Dr. Breslow himself did not smoke or drink. He walked regularly, practiced moderation in all things and enjoyed tending his vegetable garden.