With astronauts Robert Behnken and Douglas Hurley blasting into space aboard their NASA/SpaceX flight, this is the perfect time to introduce a fun new feature from Who2: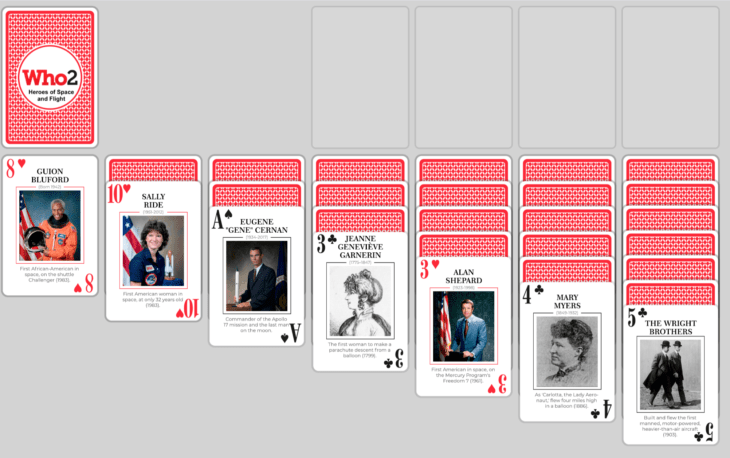 GIANT LEAPS: Heroes of Space and Flight is a new solitaire game that celebrates great pilots, astronauts, inventors, and daredevils of the past two centuries. All the biggies are here: Neil Armstrong! Bessie Coleman! The Montgolfier Brothers!  And 49 more, of course.
Who2 staffers Paul Hehn and Fritz Holznagel chose the 52 groundbreaking figures and wrote the text. The game itself was the creation of Neal Taparia and Darshan Somashekar, the creative minds behind the site Solitaired.
You can play the game right here. And here are a few of our favorite cards:
Not so well known today, Katherine Stinson was the first woman to formally fly airmail routes, a short 10 years after the Wright Brothers made the first heavier-than air flight.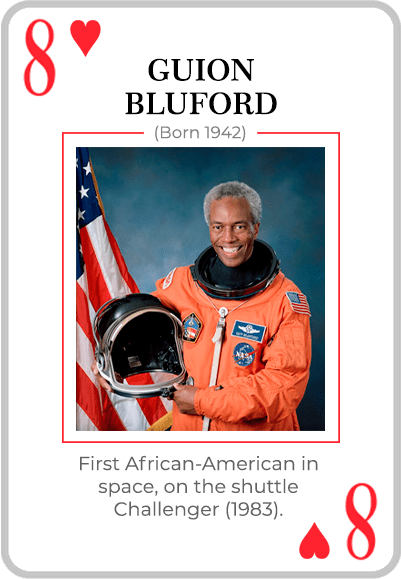 Guion Bluford has a proud place in history as the first black American in space. But I also never tire of his incredible gray hair, which makes him look like the kind of wise veteran you want to have in your space capsule.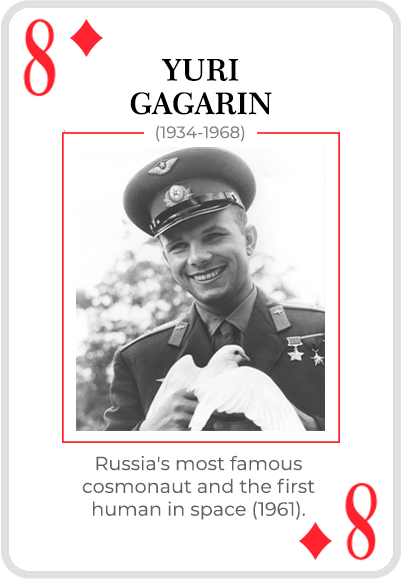 Yuri Gagarin, the first human in space. (Incredible!) He always managed to look like a good egg in his photographs. Gagarin died seven years after his historic flight, at the way-too-young age of 34, in a test flight crash.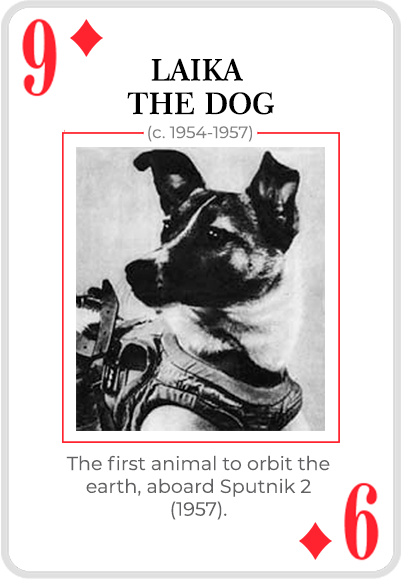 Awww! Who doesn't love Laika the Dog, the first mutt in space way back in 1957. (Let's try not to dwell on her sad fate aboard Sputnik.)
The game is a lot of fun. It's also educational — which was the secret plan of the Solitaired team all along. If you're looking for a way to entertain yourself during the COVID-19 quarantine, GREAT LEAPS is your answer.
If you can wait, you can play this embedded version of the game right here. Or you can visit the larger, handsomer
desktop version
. Enjoy GIANT LEAPS — and take a moment to salute these amazin' men and women who got us where we are today.