Now we'll never know what "Z" is for.
Mystery author Sue Grafton has died of cancer at age 77. Her long-running "alphabet" series of mysteries began with A Is for Alibi in 1982, and continued right through to Y is for Yesterday earlier this year.
The novels featured Kinsey Millhone, her groundbreaking female detective. "A salty-mouthed, twice-divorced ex-cop with a penchant for Quarter Pounders with Cheese" is how the Los Angeles Times described Millhone in their obituary for Grafton. "The writer liked to refer to Millhone, who investigates murders and disappearances in coastal Santa Teresa, as the thinner, younger, braver version of herself, living a life she may have led had she not married and had children at a young age."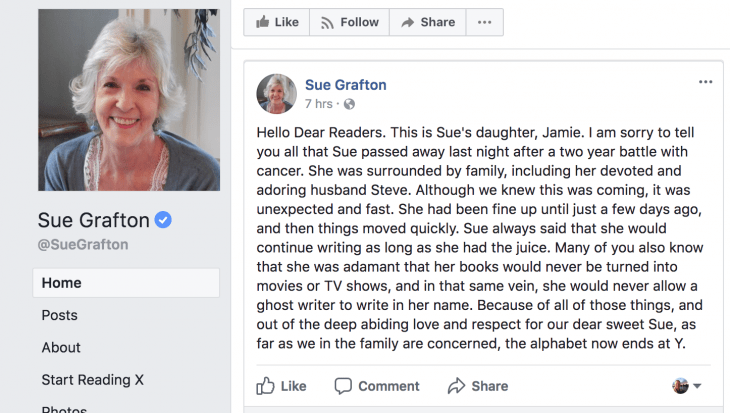 Grafton's daughter, Jamie Clark, posted a message on Facebook today saying that Grafton had died last night "after a two year battle with cancer." She also addressed the rumors (or hopes, really) that Grafton had already salted away a final Z novel in the series. "As far as we in the family are concerned, the alphabet now ends at Y."
Sue Grafton lived for 77 years and 248 days. That number puts her just ahead of scientist and spy and fellow author Edward Bancroft (77 years and 242 days) and just short of loathsome comedian Lucille Ball (77 years and 263 days) on the great tally sheet in the sky. A productive life, for sure.
There are still a few days left in the year, but we're betting that Sue Grafton is the last big death of 2017. Happy trails, Ms. Grafton, wherever you may be.
Now see our biography of Sue Grafton »