Those who know Boston may be interested in the route that Ted Kennedy's body will take in his funeral cortege today. Near the Massachusetts State House, the Senator will visit an odd address:
Continuing to Bowdoin Street, Senator Kennedy will pass 122 Bowdoin, where he opened his first office as an Assistant District Attorney and President Kennedy lived while running for Congress in 1946.
122 Bowdoin was indeed an important local station stop on the Kennedy clan's political railway. Future president John F. Kennedy lived there in 1947, the year he first ran for U.S. Congress, and he kept the place for years as a combination office and crash pad for whenever he was in Boston.
It was near the Boston political action, with a coffee shop downstairs where State House types would go to gossip and cut deals. When JFK voted on election day in 1960, 122 Bowdoin was the legal address he gave.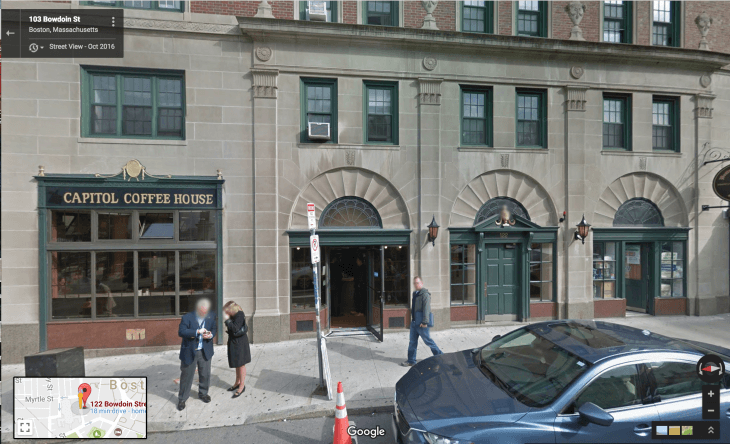 [A 2017 view of 122 Bowdoin Street from Google Maps; 122 is the closed green door, second doorway from the right.]
I once read in one of the JFK biographies — it wasn't A Thousand Days but might have been Johnny, We Hardly Knew Ye — that John Kennedy kept the apartment while he was president, and that after JFK was killed in 1963, the Kennedy family still kept renting the apartment, year after year. The implication was that the family kept it into the 1970s and beyond.
That squares with Teddy Kennedy using it as his "his first office as an Assistant District Attorney" for Suffolk County, a job he served in from 1961-62.
Here's what JFK aide Ted Sorensen said about 122 Bowdoin in his 1965 biography Kennedy:
[John Kennedy] never owned a house in Boston as he did in Washington. Although as a Congressman and Senator he maintained a voting residence in a somewhat plain and faded apartment building at 122 Bowdoin Street across from the Massachusetts State House, he was rarely there when not campaigning. The fact that several other Kennedys–and their families–for a time claimed the same three-room apartment (No. 36) as their voting address was a source of some amusement and sometimes irritation to local politicians. "If he's elected President," one was reported to have said, "he'll be the first carpetbagger voter to get to the White House."
John Kennedy moved into the apartment in 1947, the year he was first sworn in as a U.S. Representative from the 11th District of Massachusetts. The Boston Globe article quoted above, which says 1946, is off by a year: the Kennedy Library says 1947. In 1946, Kennedy lived in the Hotel Bellevue, which was around the corner at 21 Beacon Street. We checked with the Kennedy Library, and they say that "Moving into the Bellevue Hotel was enough to establish John F. Kennedy's legitimacy in the district and the state, allowing him to run for Congress. The move to 122 Bowdoin did occur after he had won the election and was serving as a member of Congress." Here's a history of the campaign with a nice photo of skinny young JFK at the Bellevue.
In 1985, I visited Boston and made a special trip to find 122 Bowdoin and see if JFK's name was still on the register. The address isn't hard to find — it truly is just steps from the State House:
122 Bowdoin looked like a hundred other apartment doorways downtown, with a narrow entrance into a small vestibule with a buzzer system, then a locked door leading to a lobby stairway.
To my disappointment, the directory next to the buzzer showed no listing for John F. Kennedy. But then a second look showed a name that was rather close: J. Kennett. A subtle shorthand to protect the family's privacy, perhaps? After all, if you pronounce both of the last two letters you get "Kennet-tee."
Still, that was just a coincidence, I figured. (At the time I didn't know that the Kennedy apartment was number 36, so I couldn't cross-check that.) I assumed the family had given up the apartment years ago.
Now I think they kept it into the 21st century.
Check the JFK Library's helpful list of John F. Kennedy's residences over the years. Only two of them list dates with an open-ended hyphen: Hyannis Port ("1929-") and 122 Bowdoin Street, Apt. 36 ("1947-").
We know the Kennedys still own the first address, the compound at Hyannis Port; Teddy just passed away there. Does that mean they also kept 122 Bowdoin Street? It sure sounds like it.
These days you can rent your own apartment at 122 Bowdoin: $900 for a studio, $1850 for a two-bedroom. Pretty fair prices for Boston. [2022 update: now $1300 for studio, $2900 for a two-bedroom. Still not bad for Boston.]
But can you rent apartment 36?  It seems that someone has: the current name on the nameplate for apartment 36 is "J. King." (But wait!  John Kennedy… J. Kennett… J. King?  Just a Koincidence?)
Whether or not 122 Bowdoin is still in Kenedy hands, I find it touching that Sen. Edward Kennedy will cruise by today.
As an aside, the JFK Library also lists "The President's Books at 122 Bowdoin Street." Among the 150 or so titles:
Pennsylvania 1651-1756
The Man versus The State
Lolita
The Cabinet of Irish Literature, Volume I-IV
Rasputin–Neither Devil Nor Saint
Off My Sea Chest
Things Catholics are Asked About
You've got to love a president who reads. Salute!