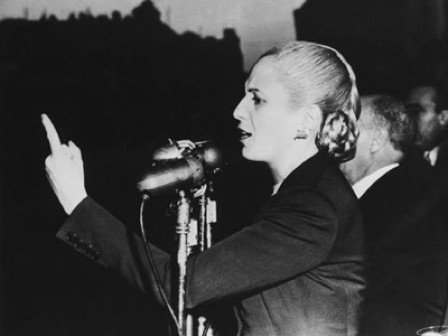 Today is the anniversary of the death of Argentenian superstar Eva Perón. "Evita" died from cancer in 1952, at the age of 33.
Her story didn't end there. Eva Perón was embalmed — they say it was a masterful job — and millions of people filed past her open casket as she lay in state. When her husband was overthrown three years later, Evita's corpse became the property of the ruling military powers. She got shuffled around for 16 years, until her body was returned to the widowed Juan Perón, who was exiled in Spain with a new wife.
Eventually Evita's corpse made it back to Argentina and was entombed. You can read some of the sketchy details in this piece from the Washington Post, or, better yet, follow the links we provide in the Who2 biography of Eva Perón.
Lately Evita has been in the news again. That is, her jewels have been in the news. Back in 2009 a stash of her jewels was stolen in Valencia, Spain. Just last month, Italian police recovered $8.5 million of her stolen jewelry in a Milan hotel room. Seven Serbian thieves were arrested — they'd pretended to be Arab sheikhs or some crazy thing, and while acting as interested buyers they somehow walked off with Evita's jewels.
Also just last month: a black gown worn by Madonna in the 1996 film version of the musical Evita sold at auction for $22,500.
Meanwhile, part of the celebration of the 59th anniversary of Eva Perón's death includes the unveiling of a new Evita portrait, at an event hosted by Argentina's President Cristina Fernández de Kirchner, who herself is sometimes called "Argentina's New Evita."