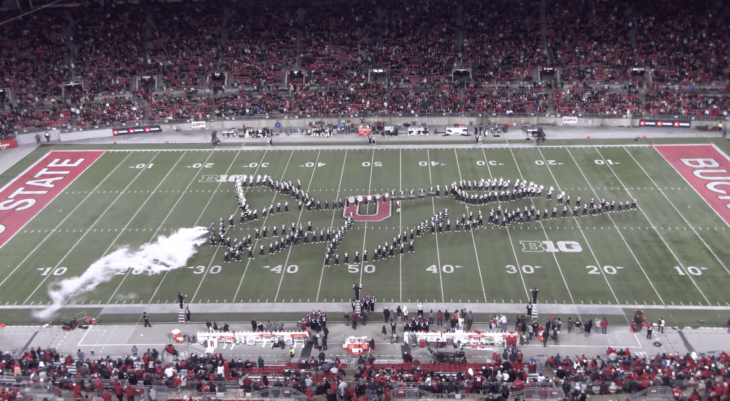 Top Gun is back, 36 years later. Top Gun: Maverick, the sequel to the 1986 fighter-jock classic (again starring the ageless Tom Cruise) arrives in theaters on May 27. Deadline.com says the film already received a "5-minute standing ovation" at the Cannes Film Festival. Lady Gaga did an over-the-top theme song. There's a "magical" reunion scene with Val Kilmer.
Amongst the other hoopla will be this oddity: a special screening this weekend for the Ohio State University marching band. It's a thank-you from Cruise for this spectacular Top Gun tribute that the band did last November at halftime of Ohio State's game against Purdue. Watch and enjoy!
It's the small touches, like the landing gear
going up
, that make this so swell.  If you must skip ahead, go right to
this fabulous representation
of one of the film's most iconic scenes, to delighted hoots from the crowd. But truly, the whole performance is worth a watch.
Top Gun: Maverick comes to a theater near you on May 27th. Reviews range from "silly but serviceable" to "superior sequel" to "gloriously Cruisey."