We Bought a Zoo, Cameron Crowe's new feel-good movie, comes out at Christmas.
It's full of fabulous actors: Matt Damon, Scarlett Johansson, and Thomas Haden Church. And it's based on an actual true story, not just a "true story."
The real-life guy bought a zoo in England with "five Siberian tigers, three African lions, nine wolves, three big brown European bears, two pumas, a lynx, four Asian short-clawed otters, two flamingos, quite a lot of owls and a Brazilian tapir called Ronnie."
The trailer, alas, looks frighteningly like Jerry Maguire — right down to the "I quit!" scene, with Matt Damon bellowing hysterically and Peter Reigert wondering how his career ever got whittled down to where he's cast as a dowdy cubicle boss like this.
You can't help but wince just a little when Damon is forced to play the sad sack: "Hey Rosie… am I doin' anything right?" And her cutesy reply about him being handsomer than other dads… yikes. Look, Matt Damon is handsome, but he's not so handsome that his dynamite looks need to be defused to make the story work.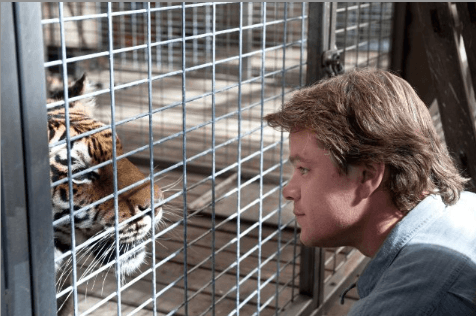 Well, it's a Christmas movie. No need to be cranky about it. But to capitalize on his feel-good reputation, here are five alternate titles that Cameron Crowe may want to consider before the release.
Jerry Maguire With Zebras
You Had Me at Bellow
The Bourne Zoology
Pet Anything
Almost Hippopotamus