The Paralympics have started in London, and this is the year of Goalball.
Goalball is the only sport in the Paralympics for vision-impaired players. It's been around for a while, since the late 1970s. The United States has so far won the most Paralympic medals in the sport. This year the sport is heating up. Some even say it's gripping the nation.
Check out this promo:
On an indoor court that's 18 meters by 9 meters, two teams of three players each try to score by rolling a ball into a goal that's 1.5 meters high. The ball has bells in it, and the court (and audience) is silent during play, so that the teams know where the ball is going. Or not going, since this sport relies heavily on defense — players throwing their bodies across court in an effort to stop the ball's progress.
This year, the U.S. men's team didn't qualify, so it's all up to the U.S. women's team to represent the home land. I decided to look up the best player on the team, and found references to Asya Miller. Four years ago, when the women's team won gold, Asya was the "top offensive force" who scored 21 of the team's 29 goals.
I looked up Asya Miller and discovered she lives in my own town (but she's from Michigan). I also discovered that she can actually drive a car, thanks to corrective lenses. I guess you don't have to be blind blind to play goalball. That explains photos like this one, of the referee checking out the players' eye masks: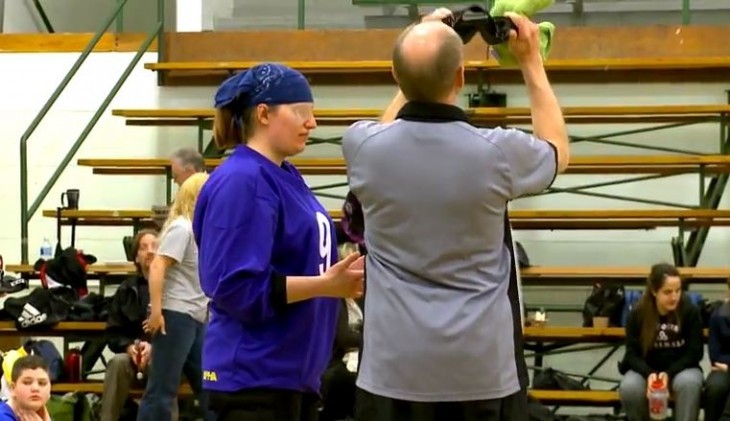 This doesn't mean Asya's a slouch. In fact, she's clearly a stud. And she and her partner sound like good people, too.
To follow the Paralympics, go here.
The official site for the U.S. Women's Team is here.
Another official site is here.