Our new Andrew Garfield biography is now live, which gives us the chance to run this photo from the Cannes Film Festival in 2009.
It's the cast of The Imaginarium of Dr. Parnassus. That's Andrew Garfield third from right, next to director Terry Gilliam, with the amazingly diminutive Verne Troyer standing in front. (Not pictured: Heath Ledger, who died halfway through shooting the film.) I just can't get over the size of Verne Troyer.
Andrew Garfield is better known now as "the good-looking friend who gets suckered out of his Facebook stock in The Social Network."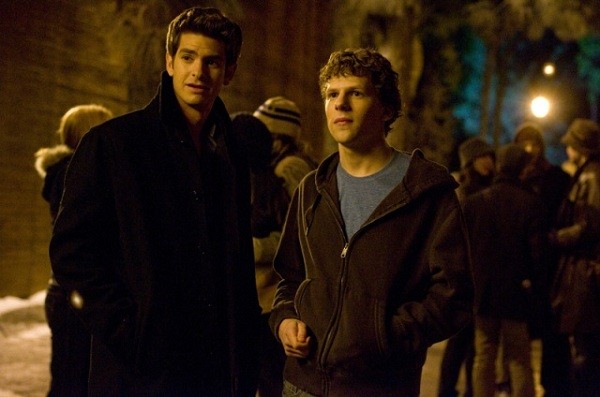 That's him at left, with the eerie Jesse Eisenberg.  Garfield was great in the film — and I double-dog think that now that I find out he has a British accent in real life.
Even though this post is supposed to be about our Andrew Garfield biography, here's a great little 2010 interview with Verne Troyer about Parnassus and his (surprisingly negative) view of his own dramatic work.
See photos of Andrew Garfield with hair mousse galore »

(Photos: Zibi/WENN.com; Sony Pictures)