Singer and television star Andy Williams has died at the age of 84 from cancer.
Andy Williams was one of those second-generation crooners, coming along well after guys like Bing Crosby and a few years after Frank Sinatra.
Andy hailed from little Wall Lake, Iowa, and he and his brothers were pushed into show business by their dad. The quartet of singing brother went from Des Moines to Cincinnati to Chicago, playing the big radio stations and making a name for themselves.
When Andy was 14 years old, his dad decided they should try to get into the movies, so they moved to California. That's how Andy ended up singing behind Bing Crosby on the hit "Swinging on a Star."
Later in his teen years he got a major boost from entertainer Kay Thompson, and as a solo professional it was Steve Allen who gave him a shot. On Allen's TV show, Williams learned about comedy and about performing in front of television cameras. By 1957 he was being steered to host his own TV show, and he had summer variety shows on ABC (1958) and CBS (1959).
Williams began his long association with NBC in 1962, with The Andy Williams Show, a variety show of singers and comedy skits. At first his back-up group was The New Christy Minstrels, but they were soon replaced — at Andy's father's insistence — on a new group of singers, young lads who'd been discovered while singing at Disneyland.
That would be The Osmonds, starting in late 1962. About a year later, little six year-old Donny Osmond made his debut on Andy's show and launched his career. Here's a photo of two others who appeared on Andy's show: comedian Bob Newhart and ukulele-playing entertainer Tiny Tim.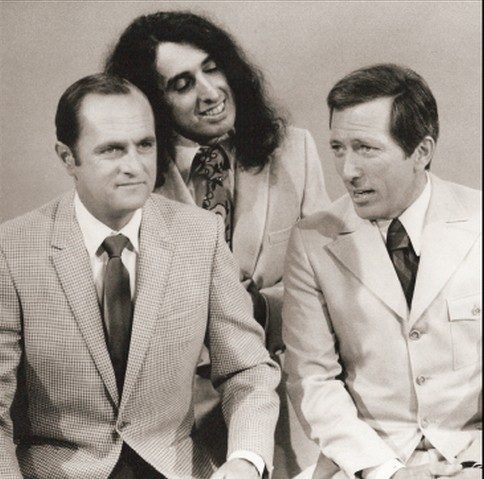 The Andy Williams Show aired off and on up through 1971, and Andy continued to have holiday specials and occasional shows. He also produced a short-lived series for singer Ray Stevens in 1970 (Andy Williams Presents Ray Stevens). It was Stevens who later convinced Williams to move to Branson, Missouri and set up shop. (Trivia: one of the regular players on Ray's series was stand-up comedian Steve Martin.)
Andy opened a theater in Branson in the early 1990s, and performed there right up until last year.
All the obituaries remind us that Andy Williams was considered a nice guy. "Affable" and "boyishly handsome" is how the New York Times obituary describes him. He was pleasant, familiar and unthreatening during the late 1960s, when the teens were all going crazy over rock music. Williams tackled some of that "rock" music on his show, of course. Like the time he sang The Partridge Family hit "I Think I Love You."
Here's an example of the kind of thing Andy did on his show, singing a happy ditty with Eddie Fisher and Bobby Darin:
Clearly there was more to Andy Williams than simply being a nice guy with a smooth voice. He was an exacting performer and boss, they say, driven to get things right. He ran his own theater and performed five or six times a week, well past retirement age. And there's that whole weird episode with French singer Claudine Longet in 1976.
Andy Williams was married to Longet in 1961, when he was a 33-year-old success and she was a 19-year-old Las Vegas showgirl. They had a couple of kids and then split up in 1970. Longet later hooked up with a champion skier, "Spider" Sabich.
One night in 1976, Longet shot and killed Sabich in their Aspen, Colorado home. She was tried for murder, but ended up only being convicted of criminal negligence — she said the shooting was an accident. During the ordeal of her trial, her ex-husband Andy Williams stood by her in support. This only solidified his reputation as a nice man, although perhaps not in the minds of Sabich's family.
At the time I remember thinking it was just plain odd that Andy Williams would even be close to a scandal of any kind, let alone a violent one. I wasn't really thinking about the fact that he was the father of Claudine's two children.
Andy Williams was one of the last of the old-style crooners. He wasn't so old-fashioned that he didn't have a Twitter account, however. Three days before he died Andy Williams sent his last tweet on what he called "the twitterphone":
"Sigh."
(The tweet just before that was "Debbie wanted me to say 'Thank You.' I wanted to say 'Thank you, but where'd I leave my glasses?")