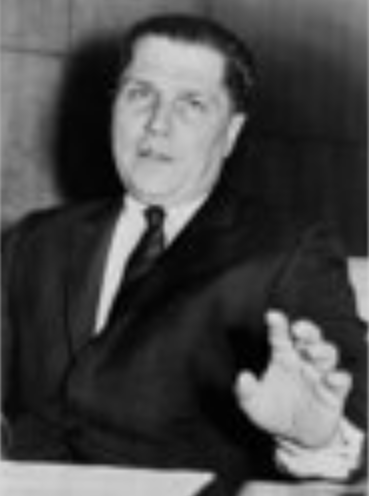 Jimmy Hoffa's disappearance is the gift that just keeps on giving. Is he buried under Giants Stadium? Was he "compacted, shredded and incinerated"? Who knows?
Now cops are following a tip that he might be under a driveway in Roseville, a suburb north of Detroit.
The Michigan Department of Environmental Quality is lending Roseville police a large drill that will send a 2-inch diameter plastic tube into the ground to retrieve a core soil sample from the ground outside a house on Florida Street. The area in question is about 10 feet below the concrete driveway.

…Once the soil is removed, it will be analyzed by a Michigan State University forensic anthropologist to determine if human remains are present.
"You don't take it to a driveway. You don't take it to the Meadowlands. There are plenty of other places right there in Detroit where you can put the body."
On the plus side, Roseville is not
too
far from Bloomfield Hills and the old Machus Red Fox restaurant, the last place Jimmy Hoffa
was ever seen alive
as he waited for a meeting with mob leader
Anthony "Tony Jack" Giacalone
:
According to the Red Fox's manager, the elder Hoffa never entered

the restaurant on July 30. Apparently, he parked his car at the north end of the Red Fox lot, where he waited for his lunchmates. When they failed to post, Hoffa phoned his wife at 2:30, asking if Tony Jack had called; no, she told him. Not long afterward he phoned his close crony Louis Linteau, owner of an airport limousine service: "Where the hell's Giacalone?" he barked. "He stood me up."
Or maybe he didn't!
[
Update
:
False alarm
. "Just a combination of clay and mud." ]
The Red Fox closed in 1996, but the Hoffa story lives on. For more, see our feature on famous
Disappearing Acts »