There's a curious moment today in A.O. Scott's review of American Reunion, a sequel to the 1999 comedy American Pie:
"[Mena Suvari] appeared in two movies released in 1999 with 'American' in the title. If you can't remember the other one, count yourself lucky."
Count yourself lucky?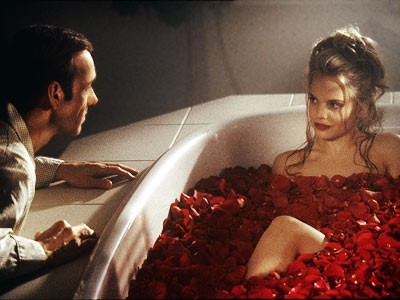 The "other one" was, yes, the much-praised American Beauty, winner of the Academy Award as best picture. Does Scott really not like it, or is he just joking?
Let's explore.
A.O. Scott wasn't reviewing for the NY Times when American Beauty came out. Janet Maslin did the paper's review, and she loved the film. (Sample adjectives: heavenly, agile, terrific, piercing.)
But since joining the paper's Arts section in 2000, Scott has been a one-man anti-Beauty wrecking crew. He started with a subtle slap in his 2000 book review of a John Updike collection:
"Near the end of 'Rabbit Remembered,' Nelson and Annabelle, along with Pru and Nelson's old buddy Bobby Fosnacht, drive to a New Year's Eve showing of American Beauty. Pru finds it 'overdone and unconvincing,' and of course she's right, but it's also a lurid rehash of a half-dozen John Updike novels."
"Lurid rehash," eh? Then Scott really got going in a review of the 2001 film The Safety of Objects:
"…declines to offer smug, warmed-over sociological insights in the manner of Sam Mendes's florid and overrated American Beauty."
From a 2006 review of Little Children:
"…does not, in the manner of other, more facile examinations of suburban dysfunction (like American Beauty) assume that it or its audience is better than its characters."
From a 2009 appraisal of the late John Hughes:
"The unspecified North Shore Chicago suburb where most of these stories take place… rather than being the facile hell imagined in movies like American Beauty, is shown as a genuine expression of the American utopian ideal…"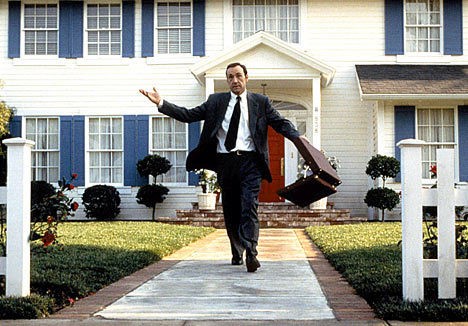 From a 2009 review of Away We Go:
"To observe that they inhabit no recognizable American social reality is only to say that this is a film by Sam Mendes, a literary tourist from Britain who has missed the point every time he has crossed the ocean. The vague, secondhand ideas about the blight of the suburbs that sloshed around American Beauty and Revolutionary Road are now complemented by an equally incoherent set of notions about the open road, the pioneer spirit, the idealism of youth."
"Guilt was never really Spacey's thing. The closest he came was the existential anguish of Lester Burnham, the tortured suburban soul of American Beauty. That role won him an Oscar, but the phony sentimentality of the film — its pasteboard-gothic conception of late-20th-century American life — may have thrown him off course."
So summing up: overdone, overrated, smug, florid, lurid, warmed-over, incoherent, phony. And facile! Scott also took whacks at the film in
10 other
reviews and essays over the years — too many to quote here! An average of more than once a year!
Yes, it's safe to say that A.O. Scott is not a fan of American Beauty.
(He's
not much
of a fan of
American Reunion
, either.)