A wonderfully obsessive analysis of Cary Grant's gray Kilgour suit from North By Northwest:
"Ventless is unusual for an expensive single breasted jacket these days, yet have been familiar on double breasted suits since the 'column' look of the thirties. Grant apparently preferred double vents as he liked to put his hands in his pockets whilst acting. Without vents the jacket is forced up onto the hips causing it to crumple in an unsightly manner."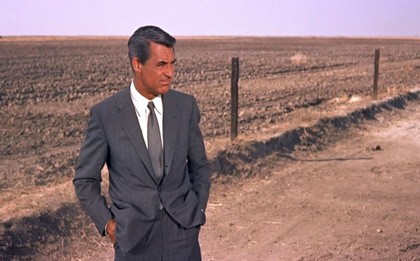 And there's more:
"Those matching socks finish off the ensemble nicely. Not a glint of hairy leg either, not even when he's clambering over a courthouse desk as drunk as a lord."
Grant kept the suit (and surely the socks) after filming was done.
Elsewhere on the same site: Sean Connery's baby blue "towelling playsuit" in Goldfinger!
{ Hat tip: Julie Corwin }