Catherine Deneuve, the French actress and legendary beauty, is now 69.
She was born on October 22, 1943, in Paris. (In occupied Paris, that is: World War II was on, the Germans were in charge, and D-Day was still eight months away.)
Birthday trivia: Catherine Deneuve is not her real name. She was born Catherine Fabienne Dorléac. Her parents both were actors, and Catherine followed her older sister, Françoise Dorléac, into the profession.
When Catherine was cast with Françoise in the 1960 film Les portes claquent (The Door Slams), she took their mother's maiden name, Deneuve, to set herself apart. 52 years later, it looks like the switch worked pretty well.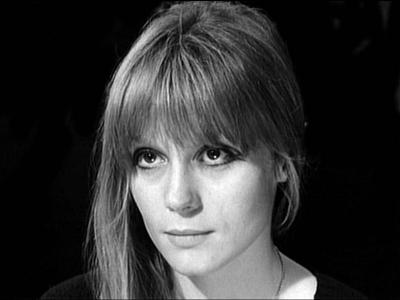 Françoise Dorléac (above) was actually the bigger star in the 1960s: "slim, gamine, pale-skinned and a real brunette stunner," the IMDB calls her. Alas, she died in 1967 after crashing her sports car:
She had been en route to Nice airport when her Renault sports car hit a signpost at the end of the Esterel-Cote d'Azur auto-route, flipped over, and burst into flames. Dorléac was seen struggling to get out of the car, but was unable to open the door. Police later identified her body only from the fragment of a cheque book, a diary and her driving licence.
She was only 25, having been born just a year before Catherine. Life is fragile.
See our full biography of Catherine Deneuve »