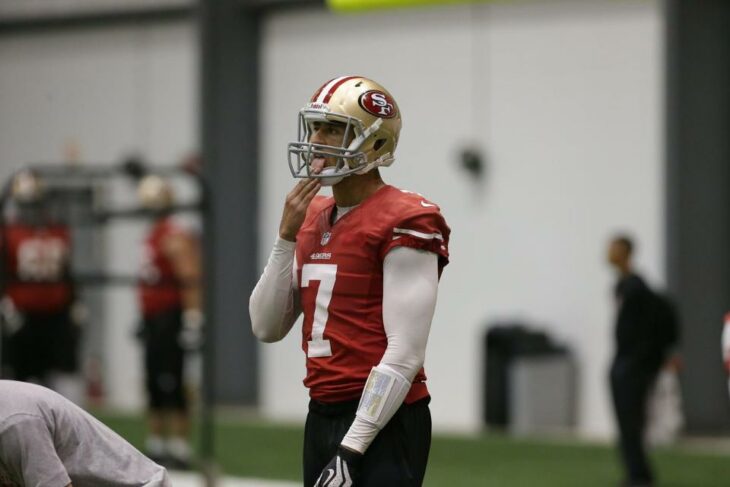 Our Colin Kaepernick biography is now live, just in time for Super Bowl XLVII — that is, Super Bowl 47.
[Update: Kaepernick and the 49ers lost, 34-31. And Baltimore QB Joe Flacco was named the game's MVP.]
Colin Kaepernick is the running, throwing, tattoed-bicep-kissing quarterback who has taken the San Francisco 49ers back to the biggest game of all. He started the year as the backup to star-crossed veteran Alex Smith, then stole his job after Smith had to sit out a game with a concussion in November. (Well, it wasn't actually stealing. But Smith hasn't played a snap since.)
Kaepernick's story is pretty irresistable:
» Bi-racial infant, adopted by a Wisconsin couple at age five weeks.
» Grew up in Turlock, California and wrote himself a letter in 4th grade, predicting he'd play in then NFL for either San Francisco or Green Bay. ("I hope to go to a good college… then go to the pros and play on the Niners or Packers even if they aren't good in seven years.")
» Super college quarterback at University of Nevada, where he threw for over 10,000 yards and ran for over 4000 in his career. He's the only NCAA Division 1 quaterback ever to do that.
» Tattoos galore.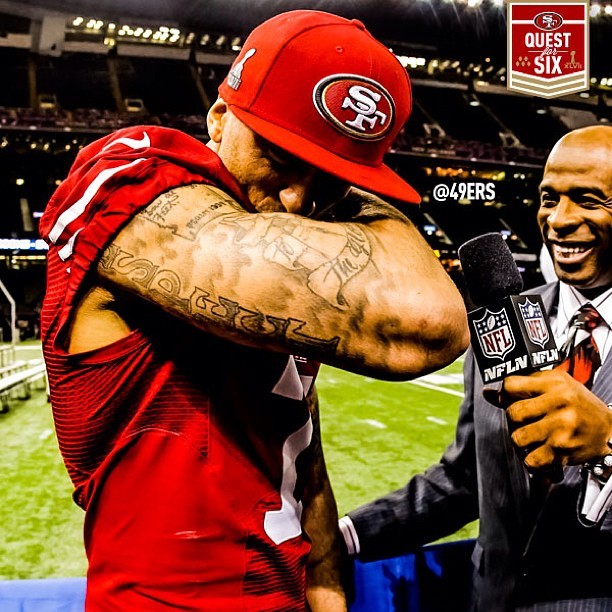 » Already has a signature celebration: flexing his right arm and kissing the bicep after throwing a touchdown. It's called Kaepernicking, and he's already trademarked it.
He's had a faster start than even former San Francisco heroes Joe Montana and Steve Young. No wonder Colin Kaepernick is the betting favorite to be the MVP of the Super Bowl.
See our full Colin Kaepernick biography »