God hit the mute button this week on a great inventor.
"Eugene Polley, an inventor whose best-known creation has fostered blissful sloth, caused decades of domestic discord and forever altered the way consumers watch television, died on Sunday in Downers Grove, Ill. Mr. Polley, the inventor of the wireless television remote control, was 96."
Eugene Polley got a $1000 bonus from Zenith for inventing the gizmo in 1955. It was shaped like a garden sprayer nozzle or a snub-nosed revolver — the better to "shoot out" commercials.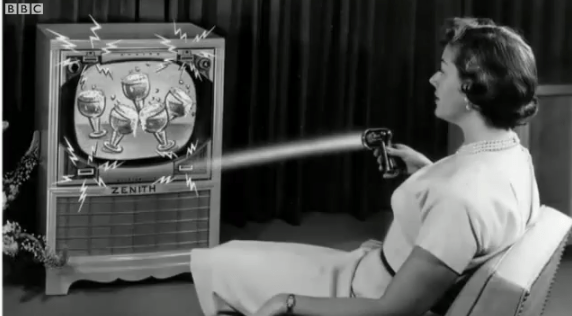 It also had just a single trigger. You pointed it at photo cells in different corners of the TV for different functions: the upper left for mute, lower right to change the channel down, and so on.
Later versions by other engineers introduced the multiple buttons we have now. (Of course, Nikola Tesla invented TV remote control long before TV was invented.)
Zenith already had a non-wireless remote which linked to the TV by a thick cable and was frankly called "Lazy Bones." The company got smarter with names as they went: "Flash-Matic" was the name given to Polley's remote, and an improvement the next year was called "Space Command."
A $1000 bonus was good money for 1955, but if you passed a hat for the inventor of the mute button today, you could collect a few trillion dollars pretty fast.
Mr. Polley, by then 86, proudly told an interviewer in 2002: "The flush toilet may have been the most civilized invention ever devised, but the remote control is the next most important. It's almost as important as sex."
Let's hope it never becomes more important.
Eugene Polley, Conjurer of a Device That Changed TV Habits »