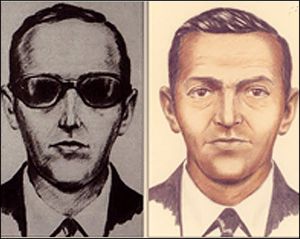 D.B. Cooper
fanboys can rejoice: the FBI says it has a mysterious new
person of interest
in the 40-year-old skyjacking case.
"The FBI obtained an item from the person to determine if fingerprints can be extracted from it for comparison to partial prints on a magazine left behind on the plane and on parts of the airliner."
The story first broke in The Telegraph this weekend.
Don't get too excited: The first rule of all D.B. Cooper stories is that the new suspect never turns out to be D.B. Cooper.  There have been plenty of wannabes over the years, including the bourbon-drinking "Oh, let it die with me!" guy from 1995.
Still, one can always hope. Deep Throat was unmasked in 2005, and he'd been a mystery since the Watergate break-in in 1972, just a few months after after Cooper's 1971 escapades.  Maybe the ol' skyjacker will still turn up.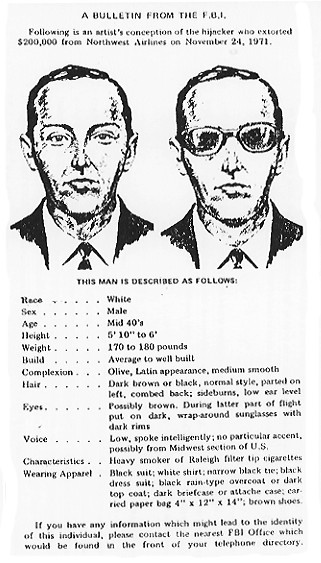 The FBI described D.B. Cooper as "mid 40s" on its wanted posters, which would make the hijacker about 85 now. But he could plausibly be in his 70s — still plenty of time to serve out a jail term.  If captured.
See our biography of D.B. Cooper >>
{ Images: FBI }