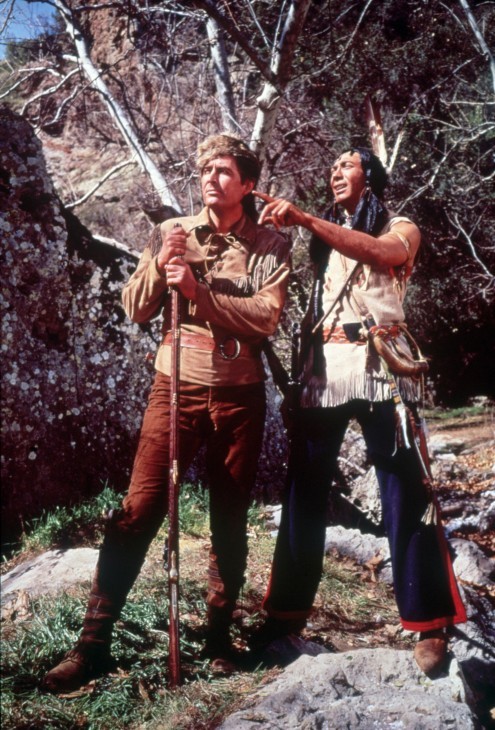 Mr. Duffy asked for a photo of the late Fess Parker with Ed Ames as his sidekick Mingo. Wish granted!
To remember Parker onscreen you have to go back a 'fur piece,' as it were. He played Daniel Boone on TV for six seasons, starting in 1964. (He had also played Davy Crockett in episodes of the Disneyland TV show in the 1950s — the shows that sparked the coonskin cap craze among kiddies in America.)
Parker gave up acting after the short-lived Fess Parker Show in 1974, but was one of the very first celebrities to get into the wine business. Fess Parker Winery made it very big — in fact, as "Frass Canyon" winery it was the scene of Paul Giamatti's famous spit-bucket freak-out in the film Sideways.
Fess Parker died today at age 85, of "complications from old age." His obit from the LA Times has a great quote from him about the surprise popularity of Davy Crockett in 1954:
"We had no idea what was going to happen to 'Crockett'… Why, by the time the first show finally got on the air, we were already shooting the third one and calmly killing Davy off at the Alamo. It became one of the biggest overnight hits in TV history, and there we were with just three films and a dead hero."
Good luck to you, Mr. Parker, wherever you are.
Photo supplied by WENN.