Fifty years after being released from a Soviet prison, pilot Francis Gary Powers has been posthumously awarded the Silver Star.
At a ceremony at the Pentagon on 15 June 2012, once-famous pilot Francis Gary Powers was awarded the Silver Star, the military's third-highest decoration. Powers died in a helicopter crash in California in 1977.
At the time of his death, Powers was still living with a tarnished reputation. He was shot down in 1960 while flying a U-2 spy plane over Soviet territory. The United States had denied spying on the Soviet Union, and the Soviets were all too happy to show the world a captured U.S. pilot. Francis Gary Powers became a symbol of the Cold War, and, to some, an embarrassment to his country.
Although Powers was tried in Moscow after three months of interrogation and imprisoned there, many Americans had the notion that he had given in too easily. Declassified documents from the Central Intelligence Agency, made public in 1998, painted a different picture, and Powers was posthumously awarded a P.O.W. Medal, a Distinguished Flying Cross and a C.I.A. Director's Medal.
Better late than never, say his family members.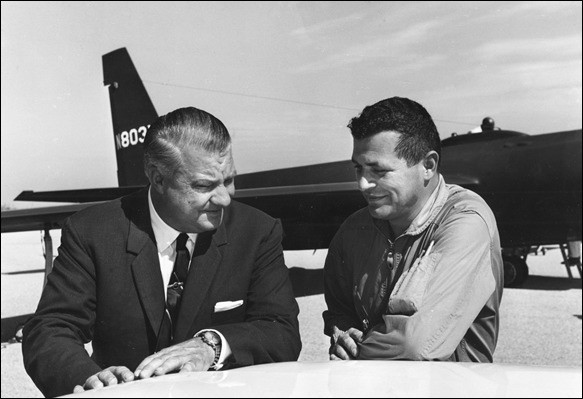 Powers was downed over the U.S.S.R. on 1 May 1960. Four days later, as Soviet Prime Minister Nikita Khrushchev was telling the Supreme Soviet about this U.S. "aggression," the U.S. was reporting that one of their weather planes had gone missing over Turkey. Oh, and maybe it strayed into Soviet air space.
The next day, U.S. State Department official Lincoln White told the press, "There was absolutely no — N O — no deliberate attempt to violate the Soviet air space and there never has been." Although White wouldn't say the name of the pilot, NASA didn't get the memo. They released the name of "weather pilot" Francis Gary Powers. Khrushchev was then able to catch the United States in a big fat lie.
President Dwight D. Eisenhower kept out of it at first, but then it started to look as though the president didn't know what was going on. By the end of the first week, the U.S. was admitting that the president had, in fact, authorized spying missions.
Powers spent nineteen months in a Soviet prison, finally winning release in February of 1962, when he was exchanged in Berlin for Rudolf I. Abel, a Soviet spy who'd been in prison in the United States.
Powers was then interrogated by the C.I.A., who determined that he'd done his best, even though he hadn't explained how his fancy jet was brought down from 68,000 feet. He was even brought before a Senate committee to answer questions. After another several months of being employed by the C.I.A., Powers entered the private sector.
He ended up flying a traffic helicopter for a radio station in Los Angeles. On 1 August 1977 the helicopter crashed and Francis Gary Powers died, aged 47.
Read the official announcement about his Silver Star here, from the U.S. Department of Defense.
(Main photo of Powers with plane from XAirforces.net.)