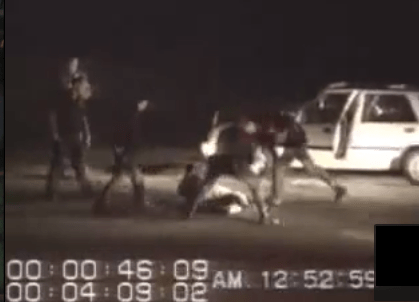 Rodney King, the man whose 1991 beating by Los Angeles Police led to public soul-searching, trials, and then riots, has drowned.
His girlfriend found him his backyard pool this morning, says the New York Daily News. An autopsy will be conducted, but police say foul play isn't suspected.
King was 25, drunk and black when the LAPD pulled him over after a car chase on March 3, 1991. The cops proceeded to beat him ruthlessly with batons as he writhed on the ground. That would have been the end of it, had not local citizen George Holliday caught the beating on video.
The LA Times describes what happened next:
King became a symbol for police brutality and the troubled relations between the LAPD and minority residents. He was eventually awarded a $3.8-million settlement, but the money and fame brought him little solace. He had repeated run-ins with the law and as of April said he was broke.

"I sometimes feel like I'm caught in a vise. Some people feel like I'm some kind of hero," he told The Times earlier this year. "Others hate me. They say I deserved it. Other people, I can hear them mocking me for when I called for an end to the destruction, like I'm a fool for believing in peace."
A complicated man.