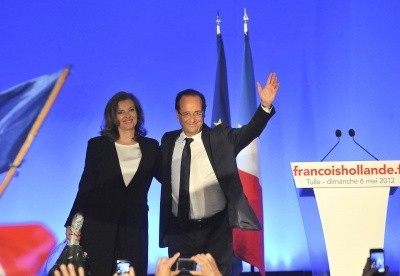 Call it Mr. Hollande's Opus.
Francois Hollande has defeated Nicolas Sarkozy to become the new president-elect of France.
The CBC calls Francois Hollande "the amiable political tortoise who overtook the hyperactive hare." Hollande has been in Socialist politics since 1979, including a decade as the party's leader, but he has long been considered a mild-mannered background operator. In 2007 he was actually defeated for the party nomination by his own longtime companion and the mother of his four children, Segolene Royal.
After Royal was beaten by Sarkozy, she and Hollande split up, and it was revealed that (in the grand French tradition) he had been having an affair with a French journalist, Valerie Trierweiler. They're still together, if unmarried; that's her above at a victory celebration on Sunday.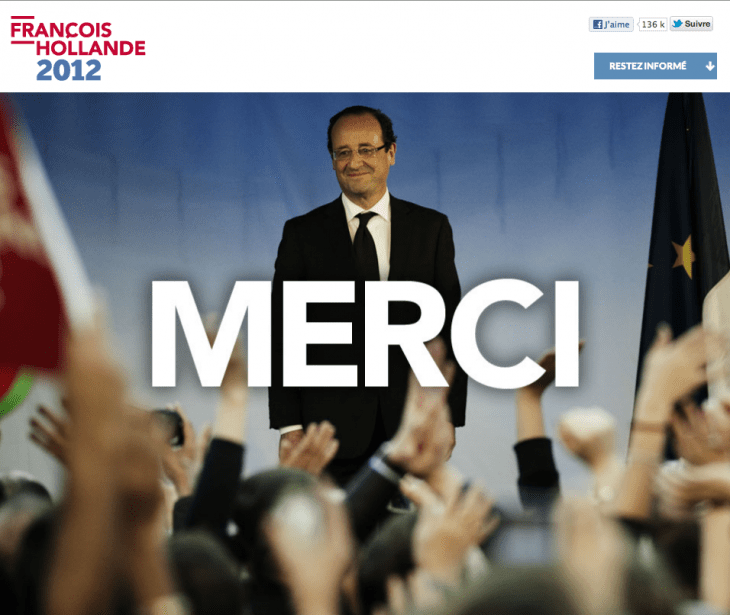 Here's how Francois Hollande's website announced the win tonight. His margin over Sarkozy was just about 52-48%. He takes office on May 15th.
(And he has many strange nicknames.)
See our Francois Hollande biography »