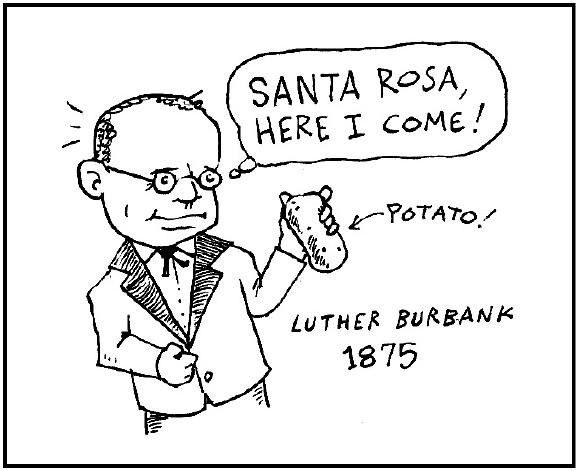 Today is the birthday of plant hybridizer and potato creator Luther Burbank. He was born in Lancaster, Massachusetts in 1849.
Luther Burbank is more associated with Santa Rosa, California, however, where he began a nursery business in 1877. He found growing conditions there perfect, and from his four-acre lot he launched a career that would make him world famous. He was able to move to Santa Rosa thanks to the success of his hybridized potato, now known as the Burbank Russet. It's the most processed potato in the world.
For a good career overview that includes a discussion about Burbank's importance in the history of plant breeding, see this long feature from the Journal of Heredity.
To see a pretty good little YouTube documentary about Luther Burbank, go here. The video includes film footage of Burbank, in which you can see he looks nothing at all like the figure in the above artistic interpretation.
The video also mentions that Luther Burbank spent 17 years developing the Shasta daisy, which I found ironic, since that's exactly how many years I've been pulling the damn things out of my garden. They grow like weeds, so thanks for that, Luther Burbank!