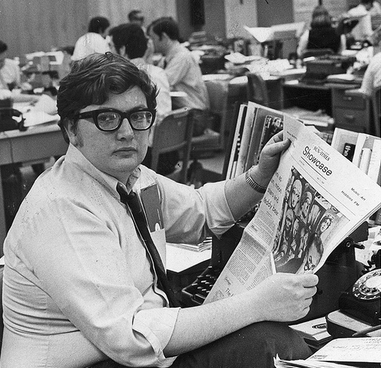 The Chicago Sun-Times has posted Roger Ebert's very first film review for the paper, from April 18 of 1967:
Georges Lautner's "Galia" opens and closes with arty shots of the ocean, mother of us all, but in between it's pretty clear that what is washing ashore is the French "New Wave."
Pretty self-assured for your first review. Ebert was 24 at the time.
The second line isn't so bad, either:
Ever since the memorable "Breathless" and "Jules and Jim," and the less memorable "La Verite," we have been treated to a parade of young French girls running gaily toward the camera in slow motion, their hair waving in the wind in just such a way that we know immediately they are liberated, carefree, jolly and doomed.
Well, he was good.
Ebert's wife, Chaz, has released
a statement
describing his death in a little more detail:
"Just yesterday he was saying how his grandchildren were 'the best things in my life.' He was happy and radiating satisfaction over the outpouring of responses to his blog about his 46th year as a film critic. But he was also getting tired of his fight with cancer, and said if this takes him, he has lived a great and full life.

"We were getting ready to go home today for hospice care, when he looked at us, smiled, and passed away. No struggle, no pain, just a quiet, dignified transition."
The Sun-Times
has a
whole lot
of coverage of Roger Ebert's life and death, including this helpful
timeline
.