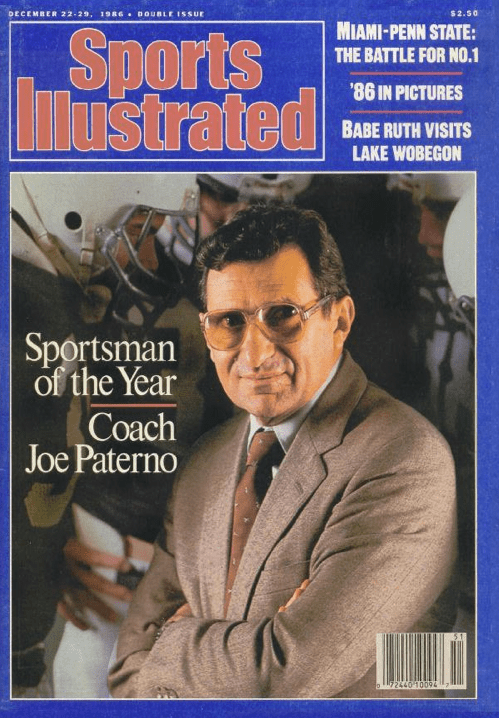 "In an era of college football in which it seems everybody's hand is in the till or balled up in a fist, Paterno sticks out like a clean thumb. His standard of excellence is so season-in, season-out consistent it borders on the monotonous: win 10, 11; send off another bunch of future doctors, lawyers and accountants."
So said Sports Illustrated in naming Joe Paterno its Sportsman of the Year for 1986.
Joe Paterno was fired yesterday after one of his longtime coaches, Jerry Sandusky, was charged with abusing eight boys over many years. Paterno was told about one incident in 2002, involving Sandusky and a boy at night in the Penn State locker room, and apparently he did little more than pass on the report to his athletic director… who didn't do much, either. It's a terrible story.
That 1986 SI story is loaded with unfortunate quotes:
"Paterno is one of those men who come along once a decade with an overwhelming feeling of responsibility for everyone and his roommate… Paterno means fatherly in Italian, and Paterno is eternally paternal. He worries. He doesn't sleep much, so weighed down is he with the problems of young people today…

'I worry about kids today,' says Paterno. 'I remember when I was a kid, you never heard about a kid committing suicide. The choices just weren't that hard. You had it all laid out in front of you. Your church told you what to do, and your parents told you what to do, and you knew what was right and wrong. But now, kids have so many choices to make, so many people to listen to, no direction. Now you hear of kids committing suicide every day. It's very frustrating for me.'"
How can something that sounded so good in 1986 sound so wrong now? The man has his own statue, for pete's sakes.
Maybe an old-school guy like Paterno just couldn't believe the horrible allegations against an old friend and assistant. Whatever: After 61 years at Penn State, 46 of them as head coach, Joe Paterno is gone.
See our Joe Paterno biography »