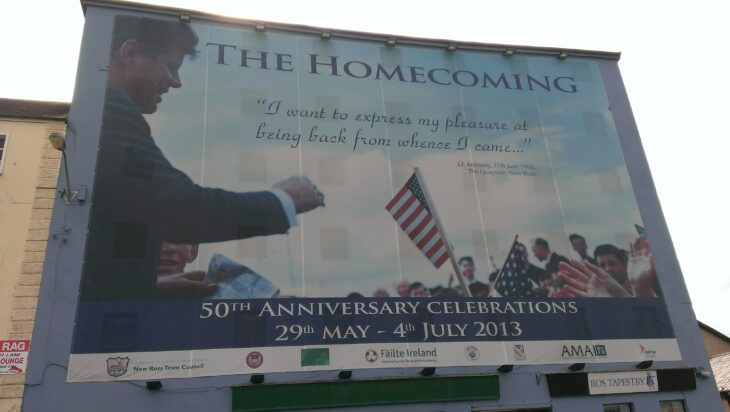 President John F. Kennedy: You may have cooled on him a little, but the Irish certainly haven't. In fact, they're gearing up for major celebrations next month — the anniversary of JFK's visit to Ireland in 1963, a few months before his death.
John Kennedy was America's first Catholic president and also its first with such strong Irish ties. (Though he was hardly the first president with Irish ancestors.) In 1963 he made a European swing that is best known for his stirring speech at the Berlin Wall. ("Today in the world of freedom, the proudest boast is 'Ich bin ein Berliner.'")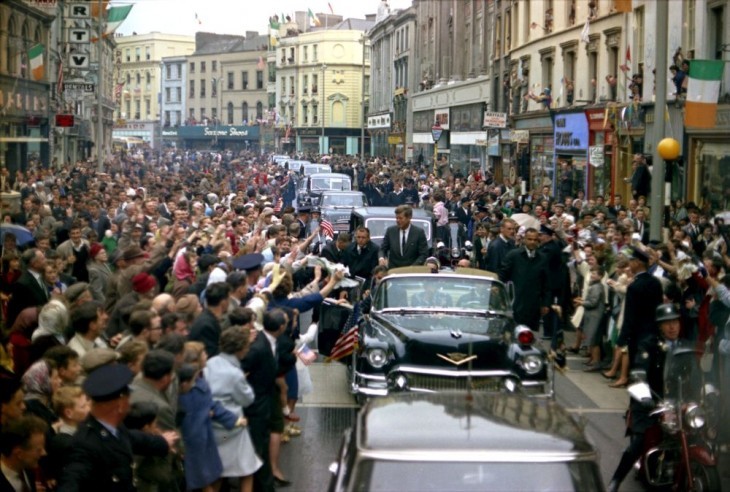 But from Germany he traveled to Ireland for four days of visits, nostalgia and sheer adoration from Irish crowds. It included a visit to Cork (motorcade seen above) and then the village of New Ross, where his great-grandfather Patrick Kennedy sailed for America in 1848.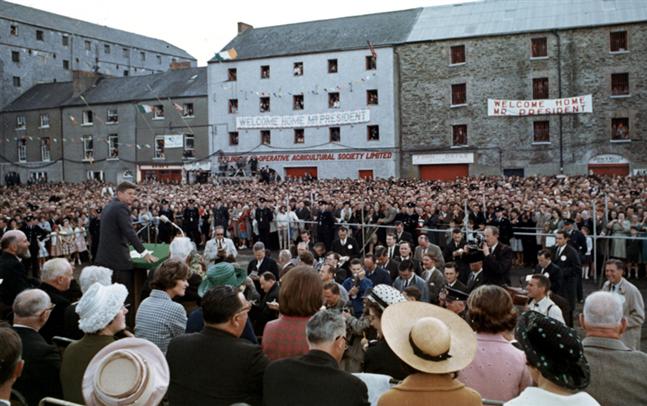 Here's how New Ross looked in 1963, as JFK made his visit…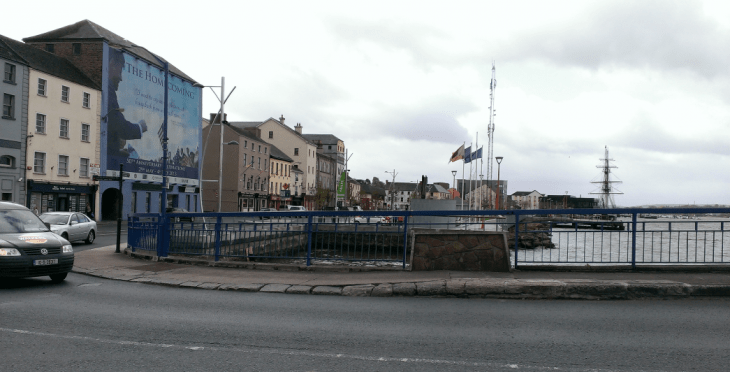 …and here's how it looks today, with the sizable "Homecoming" mural at left.
In 1963, Kennedy kept his own remarks short, but showed he knew how to work a local crowd:
When my great grandfather left here to become a cooper in East Boston, he carried nothing with him except two things: a strong religious faith and a strong desire for liberty. I am glad to say that all of his great grandchildren have valued that inheritance.

If he hadn't left, I would be working over at the Albatross Company, or perhaps for John V. Kelly. In any case, we are happy to be back here.
New Ross loved him then, and today they have a JFK memorial to mark the visit: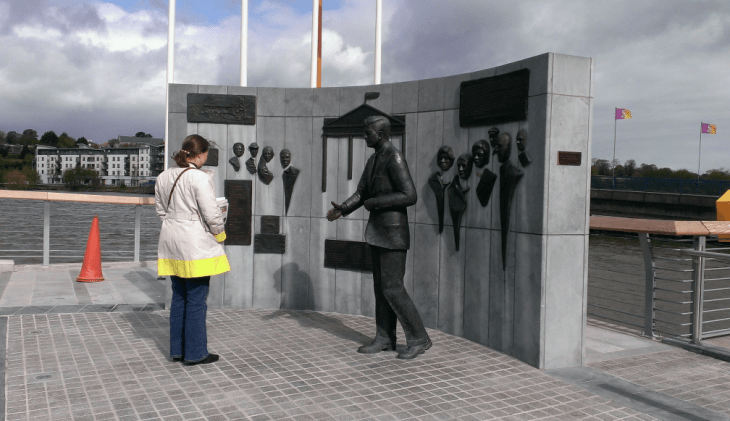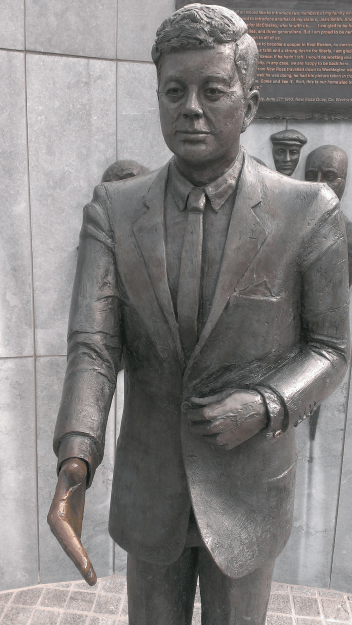 Naturally, tourists can't resist shaking…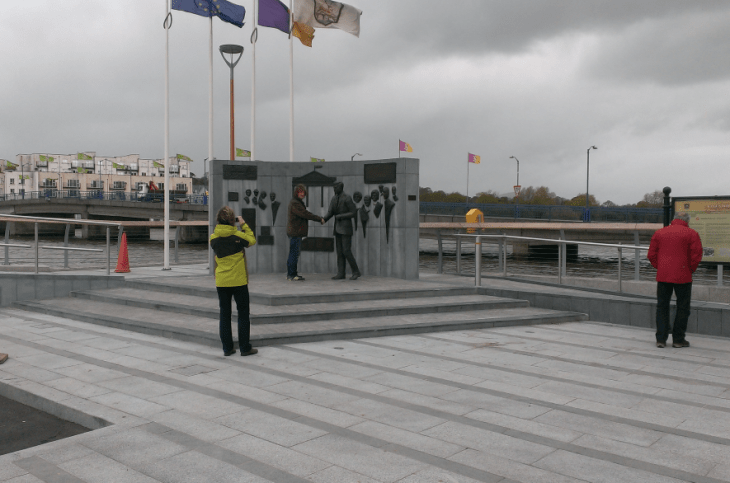 Interactive! Still and all, a nice memorial for what is obviously still a well-remembered visit. (The JFK Library has newsreel footage of the day.)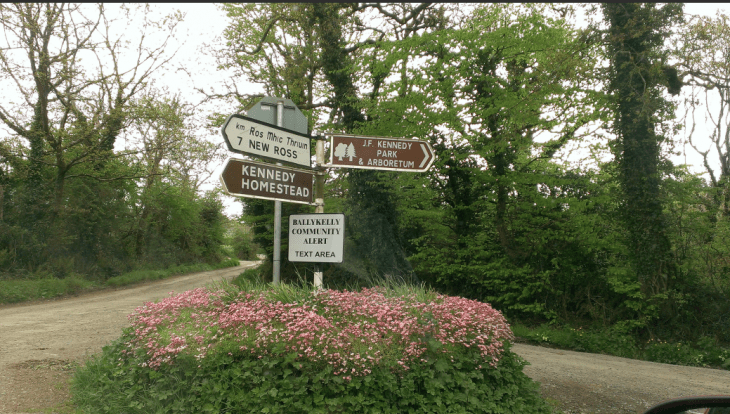 A few miles away is the actual old Kennedy homestead, which John Kennedy also visited on the same trip.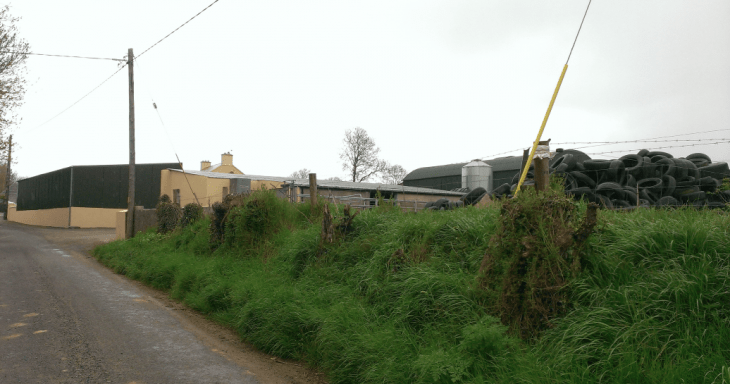 It's down a dirt road and quite rural. If you come to the pile of tires, you've gone too far.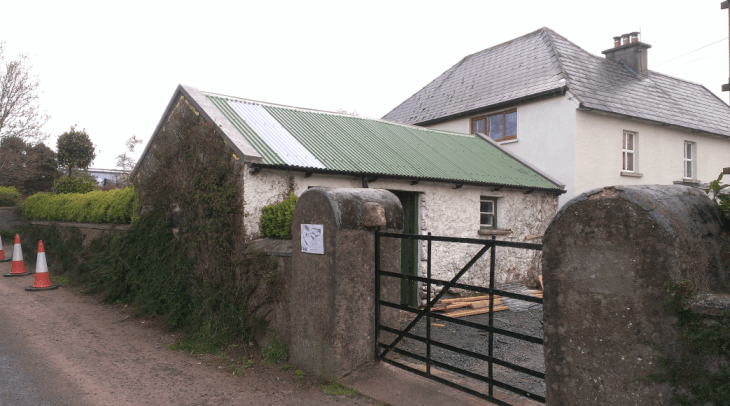 Here's the actual homestead, the small building at center.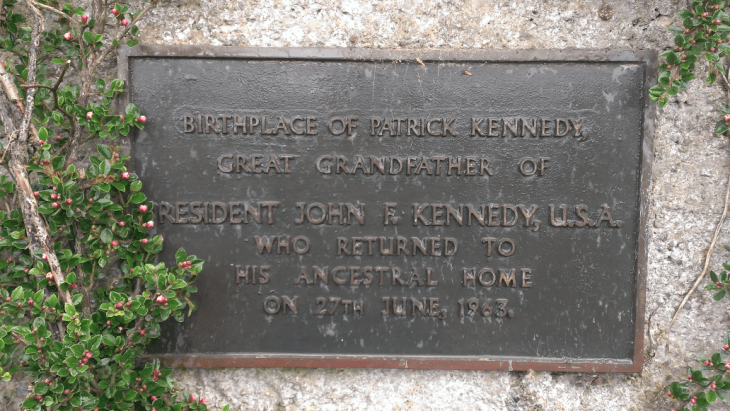 A plaque commemorates the moment of the visit on June 27, 1963.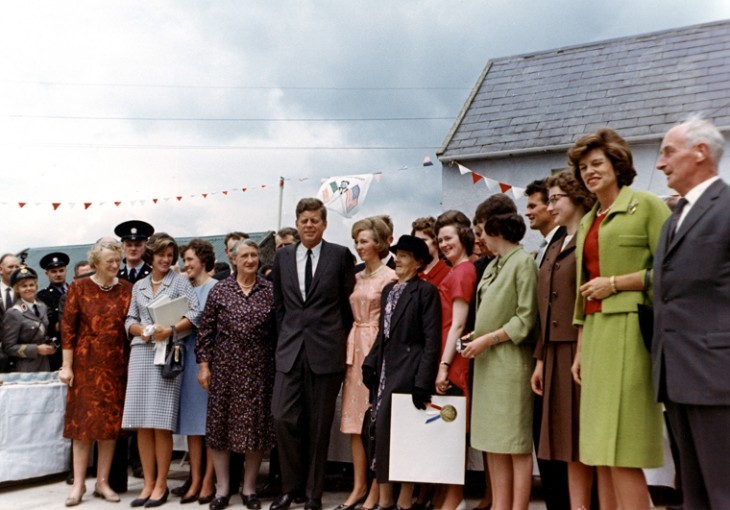 Here's how it looked on that day, with Kennedy surrounded by his sisters and Irish cousins.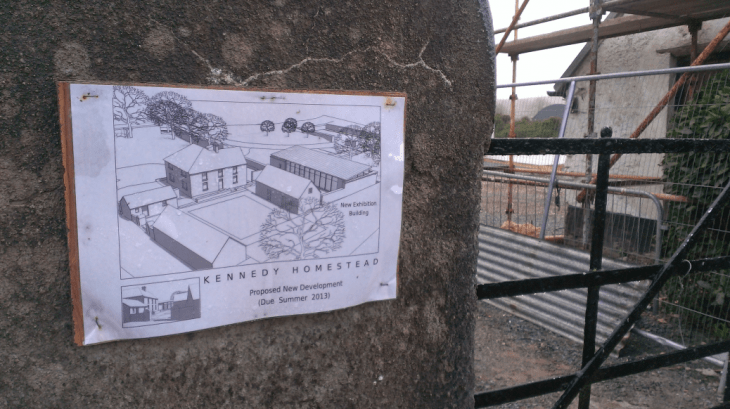 The current owners have plans to make the whole place a little more official, with an official center for visitors and all.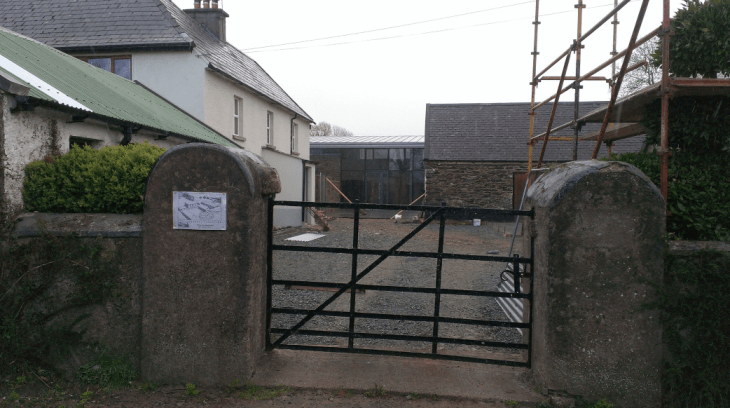 You can see it under construction in the back with the glass wall, there. But it won't be ready for June 27th.
We thought that Kennedy-mania was maybe just restricted to County Cork and environs. But then we got to Galway and discovered that Kennedy had been here, too.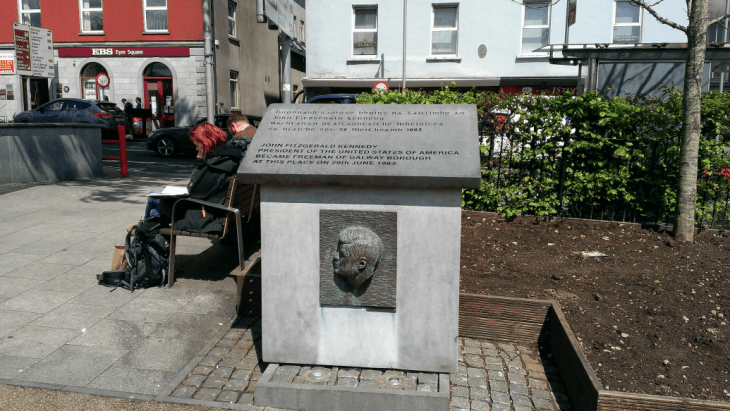 Here's a plaque in Eyre Square in the center of town, commemorating the moment that JFK was made a Freeman of Galway Borough.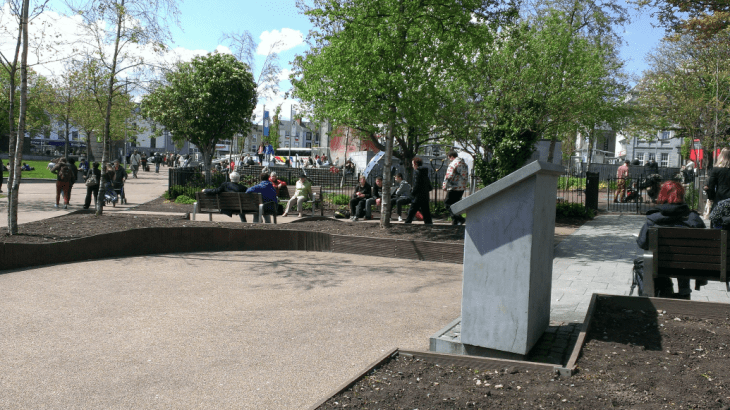 The memorial has a pretty prominent place in the bustling square.
Then we walked out of the square and into Charlie Byrne's bookshop, and what should be displayed on the front table but…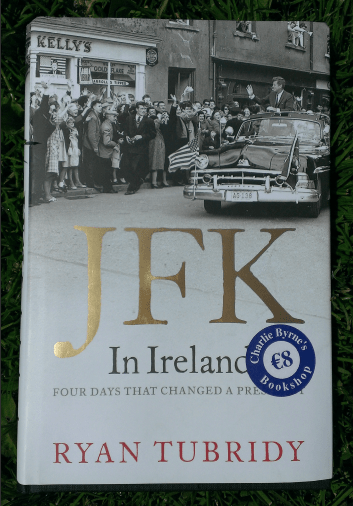 The book was published in 2010 by Ryan Tubridy, "one of Ireland's most recognised and respected opinion formers and media personalities."
So it is the 50th anniversary of his visit, yes. But it seems safe to say that (as in Athens, Ohio) John Kennedy is fondly remembered in Ireland.