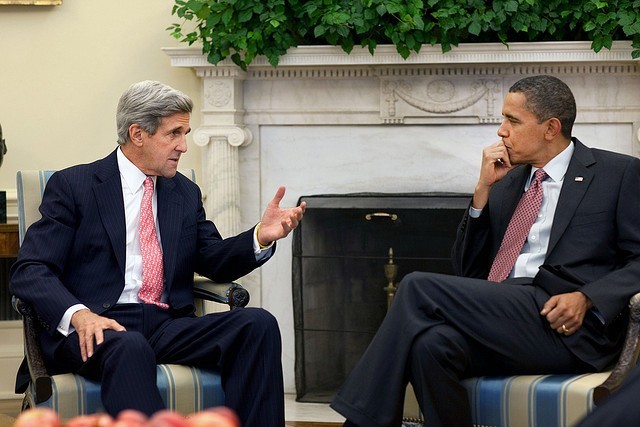 John Kerry has been confirmed by the Senate as the next U.S. Secretary of State.
The Senate vote was 94-3, with two Republicans from Texas (Sens. Ted Cruz and John Cornyn) and one from Oklahoma (James Inhofe) voting "no."
Inhofe called Kerry a "friend" but made his usual objections:
"We joke around a lot… But I told him I never agreed with him on anything, going all the way back to the Sandinistas."

Inhofe said that he was concerned in particular that Kerry appears to make global warming a centerpiece issue and that Kerry has been too deferential to global organizations such as the United Nations.
Back in the real world, John Kerry takes over from
Hillary Clinton
formally on Friday.
(Photo: John Kerry and President Barack Obama talk in the Oval Office after Kerry visited Afghanistan in 2009.)