"To all those who ever dreamed of nailing a Secretary-General to the wall, today is your day!"
Kofi Annan, the United Nations Secretary-General from 1997-2006, was honored with a formal portrait at the UN Headquarters yesterday. Current Secretary-General Ban Ki-Moon flashed some wit in his remarks about Annan before the two unveiled the portrait.
The artist, John Keane, is a Brit who was the official artist of the Gulf War for the Imperial War Museum — and a feisty guy who often paints on political themes. (See his Guantanamerica, a "properly appalling" series on Guantanamo Bay.) The On the Easel section of his website has some wonderful images of his workspace, along with paintings of politicos and butterflies.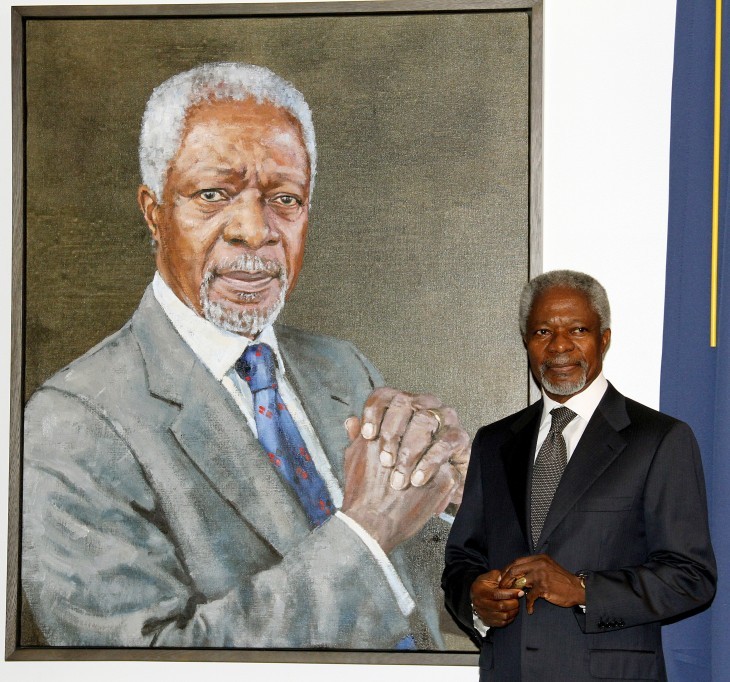 Keane nailed the portrait of Kofi Annan, from where we sit. It's awesome. There's also a message in the tie, according to Ban Ki-Moon:
"There you are in a blue tie; true blue, the staffer who
rose to the top; the face of United Nations peacekeeping and our blue
flag. It is a fitting tribute, I think, to the wisdom and grace you
showed throughout your long and distinguished career."
Nice. See more photos of Kofi Annan >>