[Note: posted in October of 2010.]
We've posted a new biography of Kim Jong-un, the next dictator of North Korea.
Apparently next, that is. Kim Jong-un stood next to his father, Kim Jong-il, at a big military parade last weekend. He also was just named a four-star general in the North Korean military — not bad for age 28 or so. And of course, there's a family dynasty: Kim Jong-il was handed power by his own dad, Kim Il-sung, who ruled from 1948-94. 62 great years!
Since North Korea has never officially mentioned Kim Jong-un until now, reporters are scrambling for scraps about him. Here are the five craziest rumors we read while researching our Kim Jong-un biography. (Remember, "crazy" doesn't have to mean "not true.")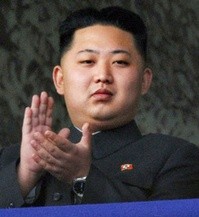 1. He had plastic surgery to look more like his granddaddy. South Korean newspapers (echoed in The Telegraph) say that Kim Jong-un went under the knife to look more like Kim Il-sung. The result? "The youngest in the Kim dynasty has the same chubby cheeks as his grandfather, a double chin and the familiar mouth that turns down at the ends."
2. He loves Jean-Claude Van Damme. Well, who doesn't? But this tidbit comes from a former Japanese sushi chef who spent years with Kim Jong-il and later published a book, I Was Kim Jong-il's Cook. The book claims that Kim Jong-un loved Van Damme's action movies, and also was a huge fan of the NBA and Michael Jordan.
3. He went to Swiss boarding school under a phony name. The Swiss magazine L'Hebdo reported last year that Jong-un had attended the International School of Berne in around 1998 under the name Pak Chol. The disclaimers: Others say it was not Jong-un but his older brother, Kim Jung-chol. Still others say they both went to school there, under the guidance of this man, with Jong-un taking the name Pak Un. And yet others say it was a different school altogether.
4. They tweaked his birthday to make him seem older. Kudos to Japanese news channel NHK for this scoop. North Korean officials have supposedly moved Kim Jong-un's official date of birth to 1982 from 1983 (or is it 1984?), so that in 2012 he'll turn 30 on the 100th anniversary of Kim il-Sung's birth. The round numbers, so the theory goes, would make his succession seem more awesomely pre-ordained.
5. His brother got caught trying to visit Mickey Mouse. Kim Jong-nam is 12 years older than Jong-un, and was himself the heir apparent until a weird 2001 incident in which he tried to sneak into Japan on a phony passport. His explanation: he wanted to visit Tokyo Disneyland. Nowadays Jong-nam splits his time between Macau and China, and he recently said he opposed "hereditary transfer" of power. Good luck with that.
6. He has itty-bitty hands. We're starting this bonus rumor ourselves, based on the photo of Kim Jong-un above. It was taken by the AP at the military parade in Pyongyang. His curiously delicate paws are clearer in this enlarged version. We ask you, are those the hands of a four-star general?
See our full Kim Jong-un biography >>