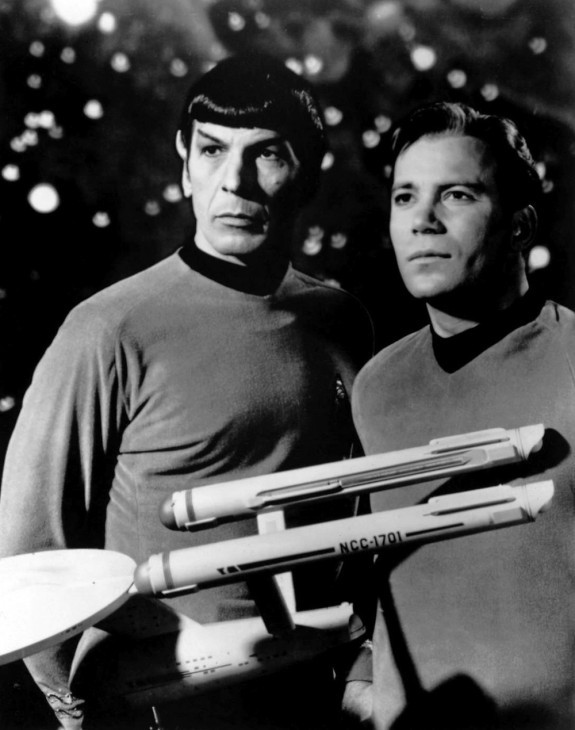 Leonard Nimoy, who created the emotionless and logic-loving Mr. Spock on Star Trek, has died of pulmonary disease. He was 83.
Half-human, pointy-eared and relentlessly sensible, Spock was the logical counterpoint to the driven and emotional Captain Kirk, played by William Shatner (above right, with Nimoy as Spock at left). Nimoy was so successful at bringing the character to life that he was identified with the role for the rest of his life.
Per The New York Times:
It's hard to think of another star who was so closely and affectionately identified with a single role. Even George Reeves, the first television Superman, was also one of the Tarleton twins in "Gone With the Wind."

…Before the word Asperger's was in common parlance, before Sheldon showed up on "The Big Bang Theory," there was Spock, the half-Vulcan, half-human science officer on the Starship Enterprise who revered reason and eschewed emotion.
The Times also manages to compare him to Mr. Peabody of Rocky and Bullwinkle, which probably would have amused Nimoy.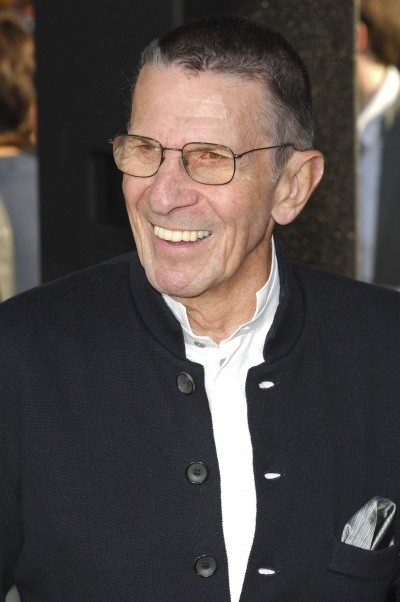 Although in the 1970s Nimoy grew exasperated at being tied to the character (even writing a memoir titled I Am Not Spock), he later embraced the character and used his fame as a springboard to many other endeavours, from record albums and books of poetry, to a one-man show about painter Vincent Van Gogh, to a respected photography career. Among many other film and video projects, he directed the hit 1987 comedy Three Men and a Baby.
He made a final tweet earlier this week:
A life is like a garden. Perfect moments can be had, but not preserved, except in memory. LLAP

— Leonard Nimoy (@TheRealNimoy) February 23, 2015
Leonard Nimoy is survived by two adult children and his second wife, actress Susan Bay Nimoy. He passed the Spock torch to Zachary Quinto in the 2009 film Star Trek Into Darkness, in what was surely one of the cleanest and most satisfying character handoffs this side of Dr. Who.
Live long and prosper, Mr. Nimoy, wherever you may be.