It's been a musical Labor Day Weekend for the Who2 midwest HQ.
Friday it was a jazz lunch at Cincinnati's handsome Mercantile Library, with singer Kathy Wade and pianist Ed Moss: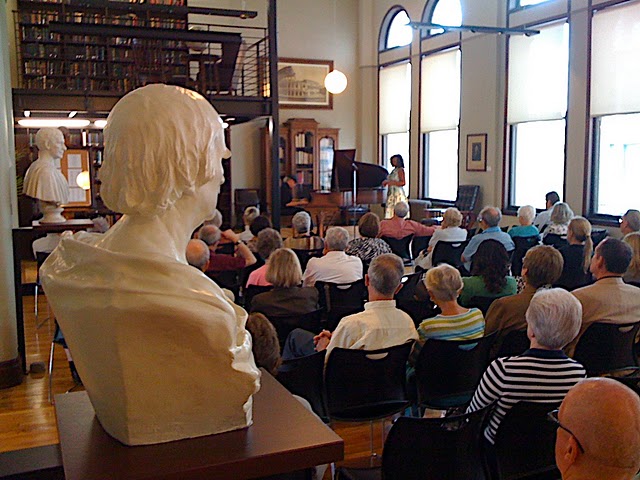 Historical homey Salmon P. Chase looked on with (presumably) approval: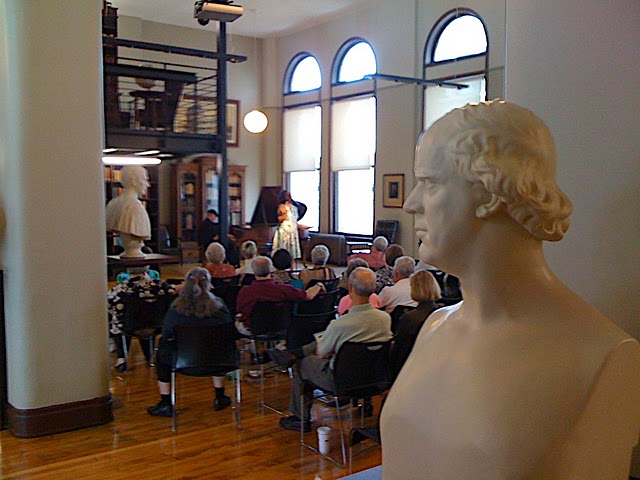 That same night we drove to Nashville in time to catch the 10 o'clock show of Brazilbilly at Robert's Western World on Lower Broadway.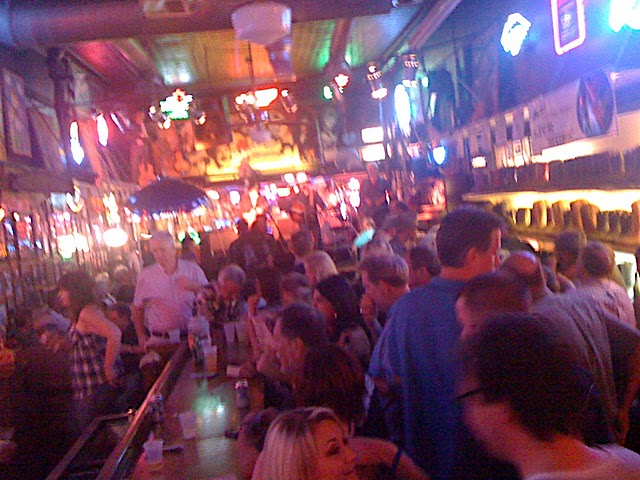 This was a hot band.  The front man, Jesse Lee Jones, "began playing Lower Broadway in the spring of 1995 after leaving his native Brazil 10 years earlier — without knowing a word of English — to pursue his dream of making a music career in America." They're the house band at Robert's now, playing every Friday and Saturday night, 10 to 2 am.
The band looks to be Jones and a rotating cast of Nashville session hotshots who can play just about anything. As we left they were roaring through "Rocky Top," the adopted anthem of Tennessee football, having been tipped $20 to play it.  Reminded me of the tip jar sign displayed by a Dixieland band years ago: Requests, $2. 'When the Saints Come Marching In,' $20.
The next morning it was the surprisingly juicy Country Music Hall of Fame.  A tribute to Tammy Wynette, the late "First Lady of Country Music," is the current special exhibition.  Included were photos of Wynette with Milton Berle…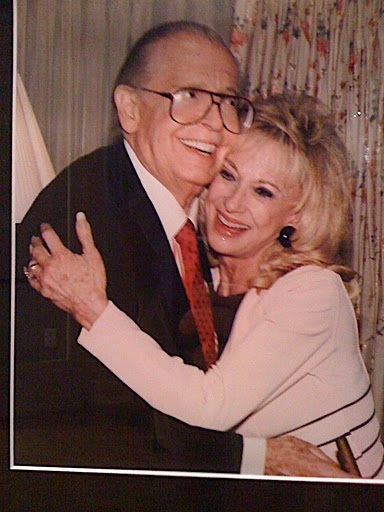 …and with her 1970s fling Burt Reynolds: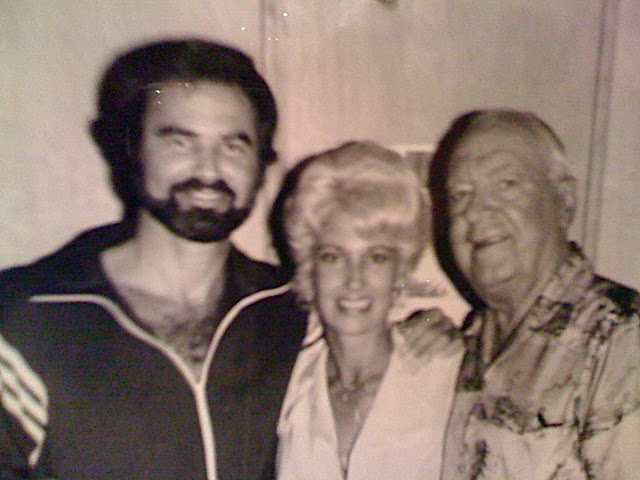 Here's hoping she and Berle were just friends.
The museum is terrific on the early years of hillbilly music and old-time country. As it moves into the modern era, it falls into that Rock 'n Roll Hall of Fame trap of leaning on endless displays of costumes and guitars. After the fourth set of spangled trousers, that gets pretty boring.
In the afternoon we wandered down Music Row, a dozen low-key blocks of agents, music offices and studios not far from Vanderbilt University.  Here's tiny li'l RCA Studio B, where Roy Orbison recorded "Only the Lonely" and Elvis recorded "Are You Lonesome Tonight":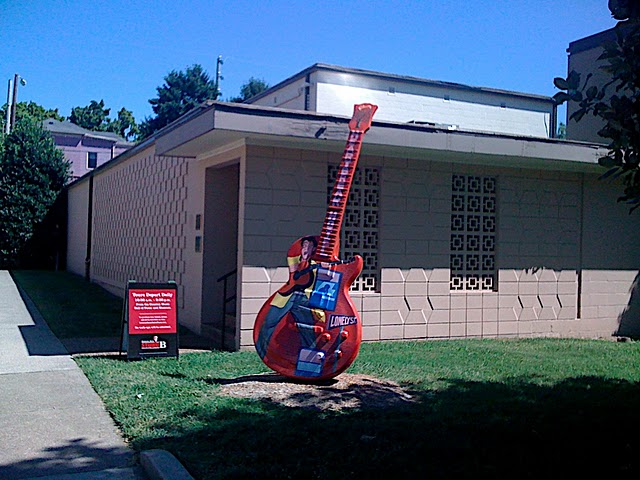 Later that night we stood in line to get into the Bluebird Cafe, now entrenched in lore (and briskly self-promoted) as The Place in Nashville Where Songwriters Get Discovered.  We were worried it might be overhyped, a little like Schwab's Pharmacy and Lana Turner in Hollywood… but it turned out to be a great show.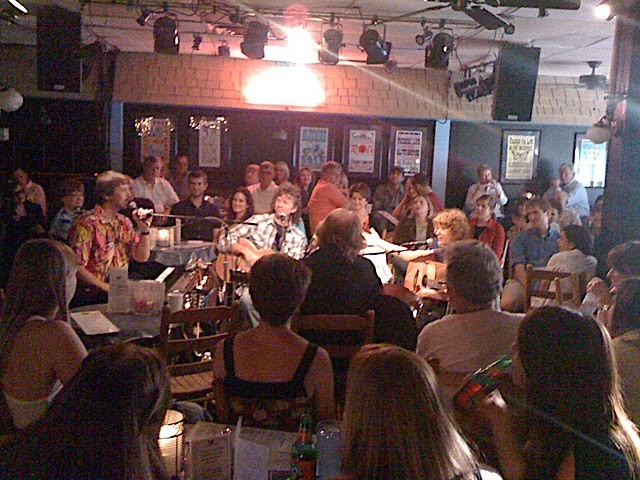 The Bluebird formula is "in the round": four songwriter/singers sit facing each other and swap songs and occasional stories.  95 fans sit at tables and on old church pews around them, eating quesadillas and grooving. We heard Todd Cerney, Liz Hengber, Will Nance and Doug Gill, old chums who've all had some success writing songs and getting them "cut," as the parlance goes.
Todd Cerney in particular is an old-timer, having won ASCAP's Country Music Song of the Year in 1987 for co-writing "I'll Still Be Loving You."  He had a funny story about how a fan told him he loved the song so much, he used it in both his weddings. Meanwhile, Liz Hengber really did get her start as a waitress at the Bluebird Cafe. Now she writes lyrics for Reba McEntire. (She said she'd had a brainstorm for a probably-not-usable song title that morning: "It Takes Two Fifths To Make That Girl A 10.")
It was impressive to see these four sing and accompany each other on guitar, fiddle, mandolin, harmonica, etc.  All of Nashville impressed us that way: there's plenty of tourist stuff, sure, but from our little taste it does seem to be filled with people who love music and are either verrrry good at it or want to be.  Music Row, for instance, would be filled with tourist junk in any other town.  In Nashville, it's almost completely without that stuff.  Refreshing to have a city outlive the hype!
Thank you for reading what turned into a lengthy personal travelogue.
Now see a random photo of a country music star without Milton Berle »