Ski champion Mikaela Shiffrin has spoken openly and bravely about her struggles with the death of her father, Jeff Shiffrin. Reports and interviews have noted that Mikaela "couldn't even get out of bed" at times, and that her father's passing made her "contemplate quitting" skiing. After winning her historic 47th World Cup slalom race in 2022, Shiffrin mentioned him fondly in a Tweet: "Dad, I hope you had a good view."
Jeff Shiffrin died on February 2, 2020, following an accidental fall at home. The nature of that accident has never been publicly revealed. We respect the family's right to privacy, but as a biography site we also want to get the facts down as clearly as possible. For others who may be curious about the cause of Jeff Shiffrin's death, here are the details as they have been reported by reputable news outlets.
"Jeff Shiffrin was an anesthesiologist with Vail Health and Anesthesia Partners of Colorado," says The Denver Post. Shiffrin was himself an athlete who skied for Dartmouth College, then helped get Mikaela and her brother, Taylor Shiffrin, into the sport.
The cause of Jeff Shiffrin's death was an accidental head injury, says The Aspen Times: "The Eagle County coroner has confirmed that Shiffrin, 65, died of a head injury, and the cause of death is an accident." His injuries were "sustained in a fall," according to an obituary in Dartmouth Alumni Magazine. The type of fall was not revealed in either story; more about that in a moment.
Mikaela Shiffrin and her mother, Eileen Shiffrin, were in Europe for a Sports Illustrated photo shoot "when sudden tragedy hit the family," reports NBC Bay Area. They quote Mikaela Shiffrin on the terrible irony of the shoot: "I feel like I'm on top of the world. The photos look amazing… As all that was happening for me, my dad was being rushed to the hospital."
In this video feature from Sports Illustrated, Shiffrin says she was "in the mountains in Italy" for the shoot. "Normally during the ski season I don't do a lot of media or shoots or anything like that, because I'm so focused on skiing." The World Cup racing season that year ran from October 19, 2019 to March 22, 2020. Mikaela Shiffrin had, the week before, won the women's Super G and finished fourth in the downhill in World Cup races at Bansko, Bulgaria.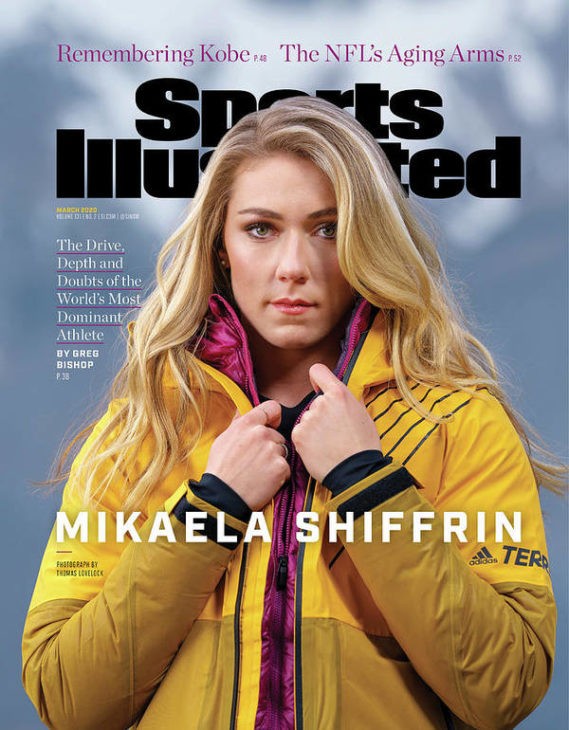 That photo shoot was for this March 2020 edition of Sports Illustrated. (Side note: If you remember Sports Illustrated as a weekly, it switched to monthly editions that same year.)
Mikaela Shiffrin and her mother made it home before Jeff Shiffrin died, according to Ski Racing Media: "Shiffrin was transported to a Denver-area hospital and was surrounded by family during his final hours, including son Taylor, daughter Mikaela, and wife Eileen, who returned home from Europe."
Aspen Soujourner magazine has deeper detail on why Jeff Shiffrin was home by himself, noting that he had just been in Bulgaria to see his daughter race:
After the Bansko races, Jeff joined Eileen and Mikaela for a few days of rest in the resort town of Lake Garda, Italy. They had come to Lake Garda as a young family 18 years earlier to windsurf, and Jeff and Eileen reminisced about that trip while walking around the lake. "We loved having him there," Eileen says. When they said goodbye, they planned to see each other in five weeks. 

Two days later, while training in Folgaria, Italy, Mikaela received a call from Taylor asking to talk to their mom, whom he hadn't been able to reach. Taylor told Eileen that his father had fallen and she and Mikaela needed to come home immediately. They all got to be together once more before Jeff died on February 2.
That statement implies that Jeff Shiffrin remained alive for some period of time after his accident. A direct flight from Italy to Denver would take around 11 hours, aside from the planning and local transit times. So the accident might have happened on Saturday, February 1, or even on January 31st.
So what was the accident, or fall, that caused his death? It hasn't been reported, and the family has not spoken of it publicly.
It presumably happened at the new home in Edwards, Colorado that Mikaela Shiffrin and her parents had moved into "during the summer of 2019, eight months before Jeff died," per Vail Magazine.  (Edwards is about 10 miles west of Vail and just over 100 miles west of Denver.) Mikaela Shiffrin did a video tour of the home with The Today Show in July that year.
There were early suggestions from ski chat rooms and bloggers (such as SkiTalk and RealVail and SeniorsSkiing) that Jeff Shiffrin fell from the roof of the house while clearing snow. That has never been confirmed by the family or by any reliable news source. Historic weather data from the National Oceanic and Atmospheric Administration (NOAA) shows that there hadn't been heavy snow that weekend:
NOAA's numbers from Breckenridge, Colorado — the nearest historical station, about 25 miles southeast of Edwards — show 1.4″ of new snow on January 30, 2020, none on January 31st, and a trace on February 1st. That hardly suggests an urgent need to clear snow off a roof. The closest significant snowfall was 4.6″ on January 28th.
It IS possible that Shiffrin was clearing older accumulated snow, of course. If he had just returned from a week or more in Europe, there might have been several inches piled up. Walk back the dates for the previous week: the Bansko races ended on Sunday, January 26. The Shiffrin family then spent "a few days" in Lake Garda; let's guess that means Monday through Wednesday. If Jeff Shiffrin then left for home, he likely would have had an all-day flight to Denver (probably from Milan) on Thursday, January 30th, thus arriving home a day or two before the accident. That would fit with him getting the house in order, maybe even clearing snow from as far back as the 6.7″ that fell on January 23rd.
If not snow, then what? Jeff Shiffrin had "hung half the chandeliers" in the new home, said Nancy Rehder, a local home outfitter who worked on the project, according to Vail Daily. That kind of work wouldn't have been unusual for him, per a Sports Illustrated story from November of 2020:
As an amateur handyman, there was no household fix he ran away from… Jeff Shiffrin knew how to clean out the HVAC system. He knew how to fix the spa, how to maintain the solar panels, pay the bills, check the plumbing.
So there's a basis for speculation that Jeff Shiffrin, an athletic fellow who was known to be handy, was doing some kind of work around the house when the accident happened. (One wonders if the 'amateur handyman' line from Sports Illustrated is hinting at that.) A fall is explicitly mentioned in the Dartmouth magazine and Aspen Soujourner stories — and presumably, both those stories had input from the Shiffrin family.
But the family has not explained what he was doing when the fall occurred, or how he fell: off a ladder, down a staircase, or something else. They have chosen to leave that detail a mystery. The only officially-stated fact is what the coroner confirmed: accidental death from a head injury.
[ April 2022 update: In an essay in the Player's Tribune, Mikaela Shiffrin now notes that she and her mother were on their way to bed in Italy when the call came. They then took a "10-hour flight" to Colorado:
Some days, it still feels as raw as when we walked into the hospital after our 10-hour flight home and saw him on the ventilator.

That night, everyone cleared out of the room, and I climbed into the bed with him and I just put his arm around me. I stayed there like that for nine hours, just letting him know that I was there. I put my head on his chest, and I could still feel his heart beating.
If all this is accurate, if she joined her father in bed the night they arrived and he passed the next day, that would mean they arrived from Italy on February 1, and got the phone call the night before that. Given the late call and the 8-hour time difference, that would have put Jeff Shiffrin's accident — or at least, the subsequent call from Taylor Shiffrin — at sometime around midday, Denver time, on Friday, January 31. ]
For more details about Mikaela Shiffrin herself, see our full biography »