Jeff Kaeppeler, the father of new Miss America Laura Kaeppeler, was a hometown Kenosha boy and baseball star who went to federal prison. He told the press on Saturday night that he had spent 18 months behind bars for mail fraud.
What exactly happened there?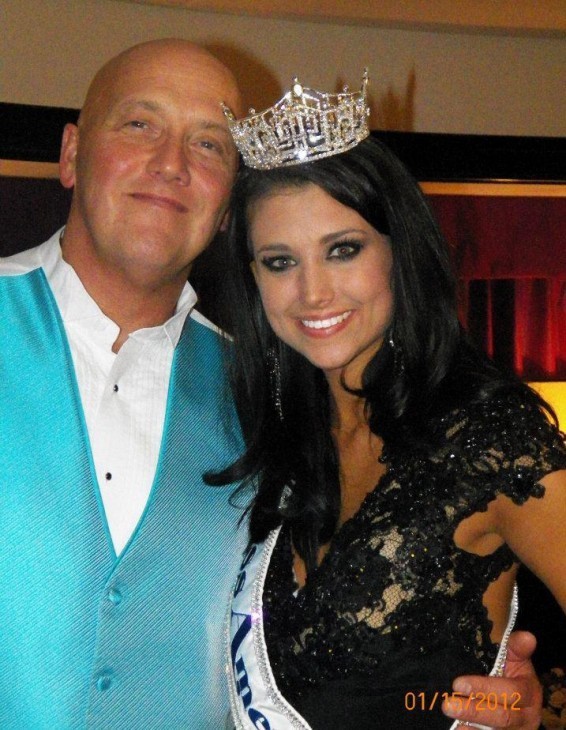 (Facebook photo)
First, here's the heartwarming part of the story as it was reported by the Associated Press on Sunday, the day after Laura Kaeppeler was crowned Miss America 2012:
The nation's newest Miss America is a 23-year-old Wisconsin brunette who had long conversations with her family mulling whether or not to make her father's jail time for mail fraud the heart of her campaign in the beauty pageant.

While her competitors pushed platforms including promoting the health benefits of milk and protecting the environment, Laura Kaeppeler said she wants children of incarcerated adults to feel less alone, to have mentoring and as much of a relationship with their parents as possible.

Kaeppeler's father, Jeff Kaeppeler, told the AP he served 18 months in federal prison for mail fraud, a sentence his daughter said started as she was graduating high school and entering college.

Jeff Kaeppeler said when his daughter approached the family about making the personal topic her chosen platform, they supported it even though they knew it would be discussed publicly.

"It taught us that God can turn anything into good if you let him," he said. "Laura is totally on board with that idea. She let that drive her and inspire her this past year to get ready for this."

"We've seen a miracle," he said while waiting backstage for a news conference in which his daughter called him her "best friend" and briefly took pictures with him onstage. "I love you," he whispered to her as dozens of cameras snapped photos.
The loyalty is heartwarming. The fraud, not so much.
While nobody in the Miss America camp has described Jeff Kaeppeler's crime plainly, a search of newspaper archives in Kenosha and nearby Racine makes the story pretty clear.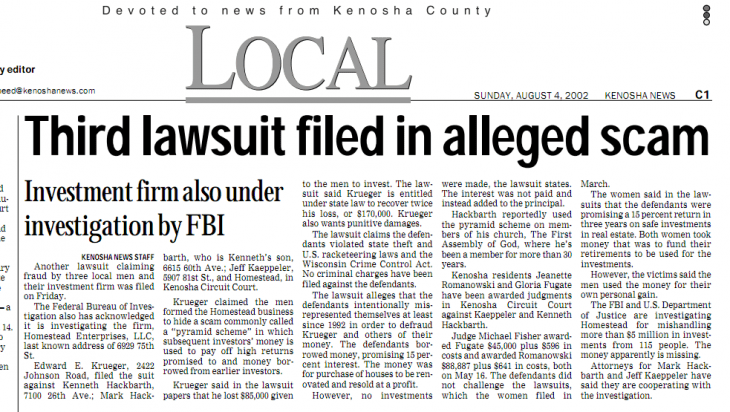 Jeff Kaeppeler was one of three men accused in 2002 of defrauding 117 investors of a whopping $6.3 million in what investigators called a classic Ponzi scheme. The ringleader was Kenneth Hackbarth, who set up a front called Homestead Investments and then used it to prey mostly on members of his own Kenosha church:
"He told his victims that their money would be used to buy, rehabilitate and sell commercial and residential property, and promised a 15 percent return on investments.

…In reality, Hackbarth was using new investors' money to pay off earlier investors, making it appear to them that their investments were working.

Hackbarth, an elder in the First Assembly of God Church, found particularly fertile ground right in his own parish. He defrauded friends, relatives and parishioners."
Among the victims was Eleanor Cline, a 77-year-old woman who invested $50,000 in 2001:
After consulting with Jeff Kaeppeler, a Homestead agent, Cline initially invested $10,000 in the summer of 2001. Later in the year she would add $40,000. She later learned from the FBI that the money was never recorded as received by the company. Cline said her blood is still boiling.
She's 77 years old and you're taking her for $50,000? Not so heartwarming. But also typical: divide $6.3 million by 117 people and those trusting folks lost an average of about $54,000 each.  To a fellow churchgoer. Who is now claiming that "God can turn anything into good if you let him." Ugh.
How bad was it for his victims? "Two of the fraud victims committed suicide from being so financially devastated," the Wisconsin Securities Division Administrator later testified.
Cline was one of seven different victims who later sued Hackbarth, his son Mark, and Jeff Kaeppeler; as noted by Starcasm, Kaeppeler's wages were garnished to pay at least one judgment. But by that point, the bulk of the $6.3 million was long gone.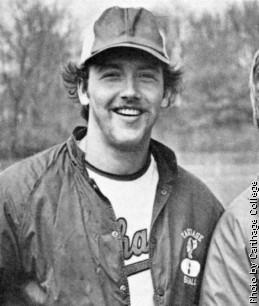 (Carthage College photo)
Jeff Kaeppeler was a longtime resident of Kenosha; his mother was born there in 1931, and he was born there in 1955. He attended Carthage College, a Lutheran school in Kenosha (which is the same school his daughter Laura later attended). He spent four years on the varsity baseball team, pitching so well that he's now in the Carthage Athletic Hall of Fame:
Jeff Kaeppeler lettered four time in baseball (1974-77) and was named the CCIW 'Player of the Year' and first-team all-conference in 1977. Carthage's 'Mr. Flawless' still holds a conference record with a 0.00 earned run average in CCIW games over both the 1975 and 1976 seasons.
That 'Mr. Flawless' nickname may have lost some of its sparkle.
On the other hand, Kaeppeler's exact involvement in Homestead Investments is unclear. We can't find any reports, even in the archives of the Kenosha News, that spell out his role or how he came to serve 18 months in prison. On her website, Laura Kaeppeler says only:
"When I was 14, an immediate family member committed a white collar crime and when I was 17 was sentenced to one year in federal prison. I was angry, sad and confused. It was not easy but I never gave up hope for a better day, and more importantly, a better life."
The Eleanor Cline story (with Kaeppeler "consulting" on her investment) and his presence as a defendant in the lawsuits certainly suggest that he was deeply involved in the scheme.
But as a local boy and Carthage sports hero, maybe Jeff Kaeppeler was brought in as a naive front man of sorts. It's vaguely possible that he didn't know what was going on, in the same way it's vaguely possible that Bernie Madoff's sons didn't know what was going on. If he really were a key player in stealing $6.3 million, you'd think he'd have gotten more than 18 months.
But you don't go to federal prison if you're totally innocent, either. We have his own word for it that the charge was mail fraud. Draw your own conclusions.
Kenneth Hackbarth pled guilty to three counts of mail fraud and was sentenced to 10 years in federal prison. He is now 85 years old and currently is at the Federal Medical Center in Minnesota — "an administrative facility providing specialized medical and mental health services to male offenders." He's due for release on October 31, 2012.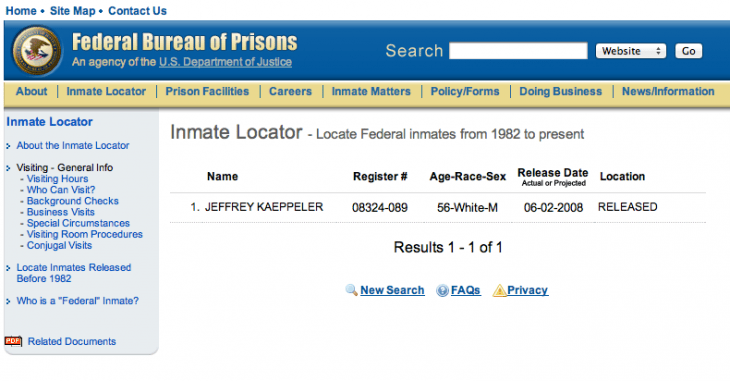 (Federal Bureau of Prisons)
Jeff Kaeppeler was released from prison on June 2, 2008, says the Bureau of Prisons, which means he started serving his time about January of 2007. (That's one more curiosity of the story: if Hackbarth went to prison in 2002, why did it take until 2007 before Kaeppeler began his term?)
Whatever the case, today Jeff Kaeppeler is the father of the reigning Miss America, telling the world that "God can turn anything into good if you let him." He has, presumably, paid his debt to society. It is a miracle of sorts — although the 117 investors who lost their money forever, and the families of the two who committed suicide, might have other thoughts on exactly what sort of miracle it is.