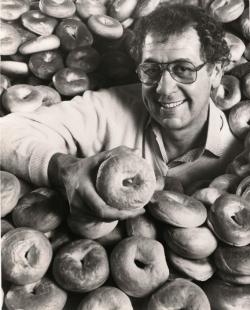 Murray Lender
, whose family brought
frozen bagels
to America's supermarkets, died on March 22nd at age 81. "Complications from a fall he suffered at his home 10 weeks ago,"
says the AP
.
Lender's father, Harry Lender, immigrated to the United States from Lublin, Poland, in 1927 and opened what would become Lender's Bagels that year in an 800-square-foot bakery in New Haven… At the time, bagels in America were sold mostly to Jewish families who enjoyed them with lox and cream cheese.

…The Lenders say they were the first to begin selling bagels in packages to supermarkets in 1955. In 1960, two years after Harry Lender died, the Lenders say they started freezing their bagels so they could ship them outside of New Haven without worrying about them becoming stale — the first company to do so. The frozen bagel would make its way to households across the country that had never had them.
Murray Lender, who became the company's CEO, told the Associated Press that he didn't care too much when purists complained about the horror of frozen bagels:
"It's clear and simple: We make 2 3/4 million bagels a day. Obviously an awful lot of people are happy with it."
Like Ikea for furniture, H&M for clothing, or the Olive Garden for Italian food, Lender's innovated by finding a way to compromise on quality and reap huge gains in other spheres. To an extent, it's thankless work. Nobody wants to stand up and proudly proclaim, "I changed the world with my inferior products." But often this is how the world changes. And if you look at the health care and higher education corners of the American economy where spiraling costs are bankrupting the middle class, you see sectors that are largely untouched by this kind of low-end innovation. The world could probably use a few more Murray Lenders.
Happy travels, Mr. Lender, wherever you are.