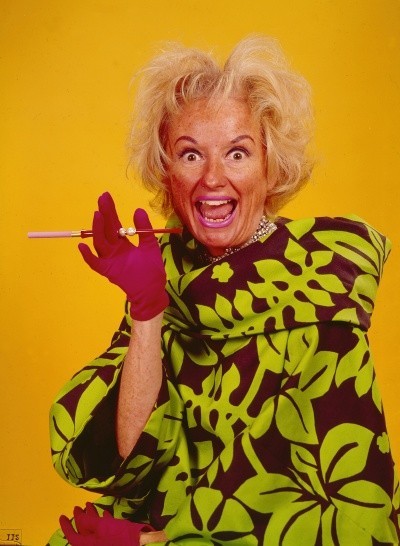 "I spent seven hours today at the beauty parlor; hell, that was just for the estimate."
Phyllis Diller is dead. The pioneering stand-up comedian was "found in her bed at her home in the affluent Brentwood section of Los Angeles by her son, Perry."
Her manager claims she died "with a smile on her face," which is maybe taking things a bit far. But that's showbiz for you.
"She was the last of the women comedians who had to make themselves ugly to be laughed at. It was a requirement. A woman walked on stage in those days and was pretty, she was a singer. Phyllis still had to put on the funny boots and stupid hats, and she was the last to do that."
So says Joan Rivers. But Phyllis Diller is more widely remembered as the comedian who turned that equation on its head, playing it ugly and proud and slapping back at all those decades of "take my wife, please."
"I once wore a peekaboo blouse. People would peek and then they'd boo."
Diller was always frank about the business of making jokes. If it worked, it was in. Her advice to aspiring comics:
"You're going to learn everything you need to know from an audience. When they laugh, you're a winner. When they don't laugh, you're a loser."
That line is from a terrific interview she did in 2000 with the Academy of Television Arts and Sciences:
That video is actually just one part of the whole swell series.
Good night, Ms. Diller, wherever you may be.
See our full biography of Phyllis Diller »