Here's something you didn't know about Rachel Maddow:
Rachel when she was young was very athletic, and actually was offered the ability to go play volleyball a couple of places and that sort of thing. And actually, when she was applying to Stanford, they had to write this essay, and one of the things she put in her essay was that "I have a tape of some of the highlights of my volleyball career to show to Coach Shaw if he s interested in allowing me to try and walk on." Well, in the spring of her senior year in high school, she tore up her shoulder, and she can t do anything any more. But all the energy she'd put into athletics have gone into her academics and her other types of things.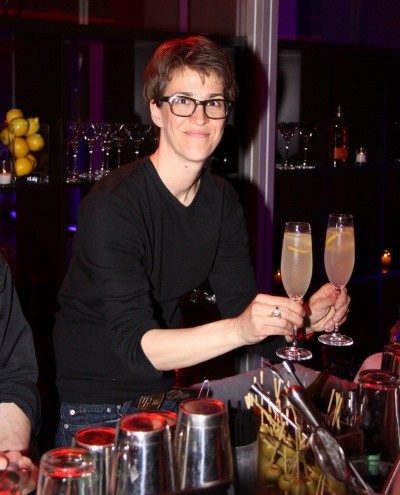 That's her serving cocktails last April at a White House Correspondents' Dinner afterparty at the Italian Embassy. Maddow was a "
celebrity bartender
" at the event.
So, volleyball and bartending. What else didn't we know about Rachel Maddow?
"She became interested in the Marshall because when she was a junior at Stanford, she actually spent her fall term at the London School of Economics, and she was kind of thinking she d like to go back there, and you can t do that with Rhodes, but you could have with the Marshall. But then a number of people, including people whom she really admired, said, 'Rachel, you can t turn down a Rhodes.' For no other reason, you can t because if you turn down the Rhodes, nobody gets it. If you turn down the Marshall, somebody else will get it, and that was important to her, because one of her roommates was trying to get a Marshall at the time. "
»
She
likes
Ike: "I'm undoubtedly a liberal, which means that I'm in almost total agreement with the
Eisenhower
-era Republican party platform."
»
Her
first date
with her partner,
Susan Mikula
, was at an NRA "Ladies Day at the Range" gun event.