Dogged, merciless, pit bull, grand inquisitor… that's how the papers are summing up Mike Wallace.
Mike Wallace, the veteran newshound famed for his bare-knuckles interviews, has died. Here's how obituary writers are summing him up:
"Mike Wallace didn't interview people. He interrogated them. He cross-examined them. Sometimes he eviscerated them." –

The Associated Press
"Mike Wallace, the grand inquisitor of CBS's 60 Minutes news show who once declared

there was 'no such thing as an indiscreet question,' has died at the age of 93." –

Reuters
"CBS News legend Mike Wallace, the

60 Minutes

pit-bull reporter whose probing, brazen style made his name synonymous with the tough interview — a style he practically invented for television more than half a century ago — died last night." –

CBS News
"CBS newsman Mike Wallace, the dogged, merciless reporter and interviewer who took on politicians, celebrities and other public figures in a 60-year career highlighted by the on-air confrontations that helped make 60 Minutes the most successful prime-time television news program ever, has died." –

NPR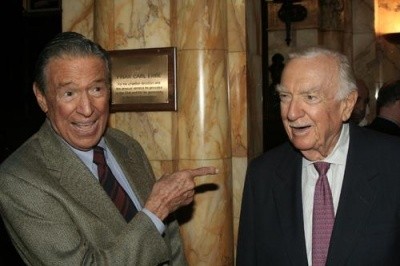 The
AP
gets off another good line in its obituary: "His reputation was so fearsome that it was often said that the scariest words in the English language were 'Mike Wallace is here to see you.'"
Wallace is really the last lion of the great World War II generation of journalists. Some —
Walter Cronkite
,
Andy Rooney
— are recent passings.
Edward R. Murrow
has been gone for 50 years now. Wallace outlasted them all, and stayed on the air until nearly his 90th birthday.
CBS News has collected some of his
on-air highlights
, including his first appearance on
60 Minutes
in 1968.