She's no longer 97 going on 98.
Sorry, we couldn't resist that little quip.  The sad truth is, Agathe von Trapp has died at age 97 in Baltimore, Maryland. (The Guardian also finds a quip irresistible, leading its obituary with "So long, farewell.")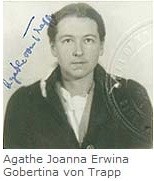 Agathe was the oldest daughter of Austrian naval Captain Georg Ritter von Trapp, who had 7 children with his first wife, was widowed, remarried, and formed his family into the Trapp Family Singers — roughly as the story was told in The Sound of Music.
"Agathe, a guitarist, was represented in the film by 16-going-on-17 Liesl, played by Charmian Carr," says the Associate Press.  She'll be buried at the family lodge in Stowe, Vermont come spring.
According to the family website, only one of the original seven children now survives: Maria F. Von Trapp, born 1914, "former lay missionary in Papua, New Guinea, now living in Stowe."  Georg von Trapp's three children with his second wife (the more famous Maria, the one played by Julie Andrews in the movie) also survive.
The National Archives, by the way, has a very nice page showing how The Sound of Music differed from reality.
Key findings: Capt. von Trapp was actually a nice guy, and (more shocking) Maria didn't really love him when she married him.  She married him for the kids!