A wonderful movement is afoot to rename baseball's Atlanta Braves with a name that's less racist and also honors the team's greatest hero, the late 'Hammerin' Hank' Aaron:

The #Hammers shirts are in! pic.twitter.com/euCnyp6P9Y

— Ryan Cothran (@baldheaded1der) November 6, 2020
That's right, the Atlanta Hammers. It's catchy, hard-hitting (!), and they'd barely have to change their existing logo.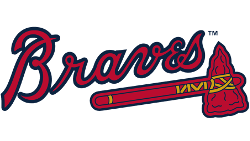 What a great idea! How often does a pro sports franchise get the opportunity to do the right thing and honor its own team heritage? The old tomahawk straps on the hammer really should be omitted as well, but that's a minor point. The name "Hammers" even has a proud history in other pro sports.
So far, Atlanta ownership says it has no plans to change the name. Here's hoping that changes.