"They were pretty smart, I guess," he said. "Rather than using a group of amateur Watergate bugglers, burglars — well they were bunglers — they used the F.B.I., used the I.R.S. and used it directly by their own orders against, in one instance, a man who had been vice president of the United States, running for governor."
That's disgraced President Richard Nixon, blaming the John Kennedy administration for his troubles before a grand jury in 1975. Y'see, Nixon was the good guy because his team hired amateurs to break the law and rig the 1972 elections.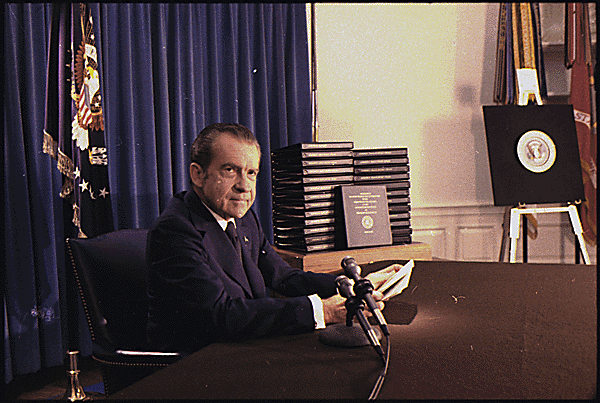 The Nixon Library was forced to release the transcripts by a court order as part of its continuing battle with historians who want more access to the Nixon archives. The testimony is vintage Nixon, says his old nemesis the NY Times:
The transcripts offered a remarkable portrait of Nixon after he left office: bitter at his disgrace and cynical about politics. He presented himself as a victim of governmental abuses by his enemies during his long career in politics, and said that prosecutors, with an eye to ingratiating themselves with the Washington media "and the Georgetown set," were out to destroy him.
The "Georgetown set" — heh. Oh, and that Oval Office meeting note that says "Check McGovern IRS files"? He just can't remember it.
See our Richard Nixon biography »
(Photo: President Nixon at a press conference to release the transcripts of the White House tapes on 29 April 1974. ARC Identifier: 194576)