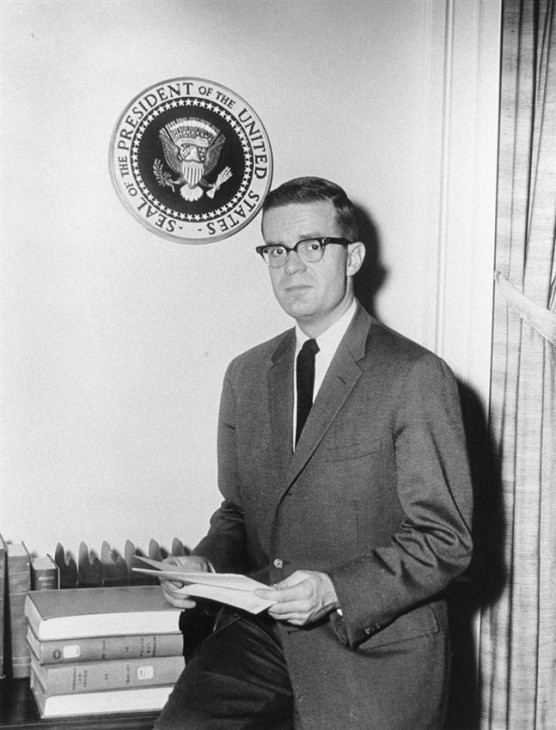 Ted Sorensen has died of a stroke in New York City. He was 82 years old.
Ted Sorensen spent 11 years as an aide, counselor and (especially) speechwriter to John F. Kennedy, starting in 1953 when Kennedy was a newly-elected U.S. Senator, and ending with Kennedy's assassination as president in 1963. He wrote one of the early definitive books about the Kennedy administration — Kennedy, in 1965 — and also helped Kennedy write his Pulitzer Prize-winning political biography Profiles in Courage in 1955.
Sorensen will always be remembered best for writing JFK's stirring campaign and presidential speeches. The 1961 inaugural — with its soaring phrases like "the torch has been passed to a new generation of Americans" and "now the trumpet summons us again" — is well worth a read right now if you have a moment.
Its idealism is astonishing today.
Ted Sorensen is one of the very last members of the John Kennedy old guard to go. (In fact, I can't think of another off the top of my head. Is McGeorge Bundy still alive?) He'll always be remembered for the stirring speeches, but he was also a key policy advisor, sounding board, and flat-out workhorse for Kennedy. An important career.
His 2008 memoir Counselor: A Life at the Edge of History was reviewed with exasperation by Who2 in 2008.
(Photo credit: Abbie Rowe, National Park Service, courtesy of the John F. Kennedy Presidential Library and Museum in Boston.)